Boise, Idaho is tucked away in plain sight in America's Inland Northwest, and although it's often overlooked due to its relative isolation, Boise is a lovely town with a rich history of pioneers, agriculture, and of course, bungalows.  Boise's bungalows run the gamut of all shapes, sizes, colors and styles, and were built from the plentiful natural resources that abound in the region.  Timber, sandstone, and river rock were all put to good use when the City's omnipresent bungalows were built during the first quarter of the 1900′s.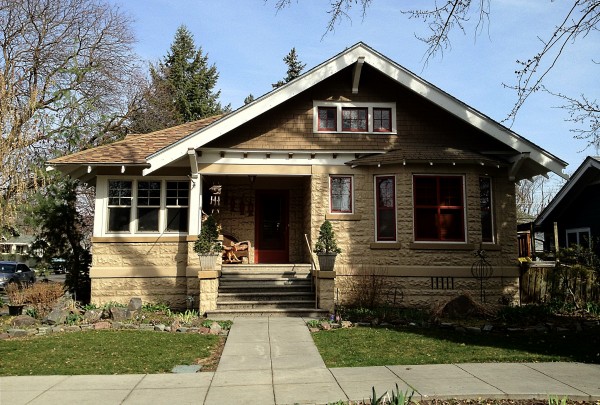 Like many other Western towns during this era, Boise was in the midst of a population boom, and saw its population triple – from approximately 6,000 to nearly 18,000 – in the first 10 years of the 1900′s.  All of these new residents needed homes, and with the Arts & Crafts Movement gaining a foothold across the country, the Victorian and Queen Anne styles falling out of favor, and the growing adoration of bungalow architecture emerging out of California and the Pacific Northwest, the timing was right for Boise's big bungalow boom.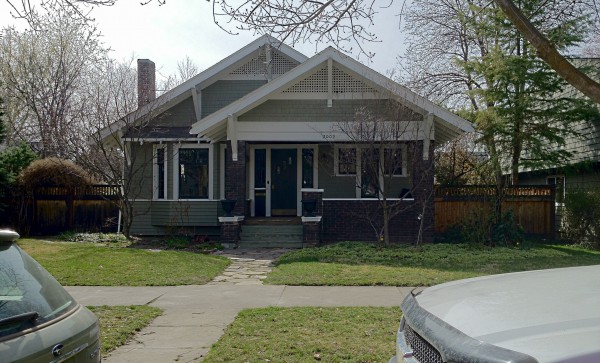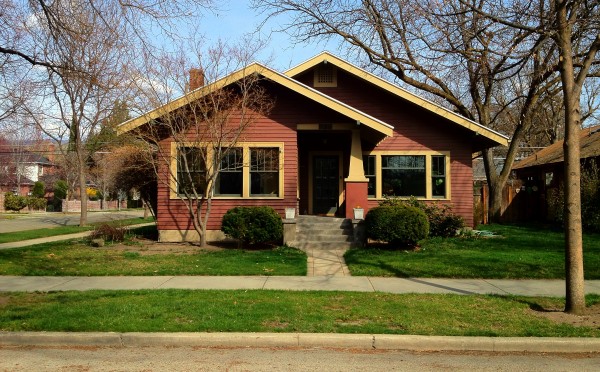 Many of Boise's early bungalows were small and simple (above) and fit the budget of the town's newest residents.  As the local economy continued to gain traction into the 1910′s-1920′s, more and more homes were built that exhibited elaborate exterior details coupled with fine artistic craftsmanship (below).
Neighborhoods like the North End are where many of these larger bungalows were built.
This modified four-square (above) in the North End appears to have been added-on-to over the years.  My guess is that the enclosed front porch on the left side and small bump-out at the rear left were not original.  The same could also likely be said for the interesting home below.  Its narrow windows on the two second floor dormers (in the middle below) appear to be original, but it looks as though the portion on the left side of the home may have been added on at some point.  Either way, something about this home is very intriguing to me!
Closer to Downtown, the home above was designed and built by John Tourtellotte in 1905.  The original owners were farmers and who raised sheep, so it's not surprising that the home retains some features of a late 1800′s farmhouse intermingled with some early bungaloid details.  The stone block on the first floor makes a strong statement as well.
Sprinkled in among these 100 year old homes are a handful of newly constructed/renovated homes that seamlessly fit right in.  The wide stance of the front porch on the home above is nicely contrasted by its tall A-Frame roof-line. The abundant exposed rafter-tails and staggered shingle siding of this newer home (below) appear to have been heavily influenced by none other than Greene & Greene.
Many of the North End's marquee homes can be found on Harrison Street – a quaint, tree-lined arterial that runs north-and-south through town.  Two homes in particular caught my eye: the first (above) is a latter-day Queen Anne built in 1908 which was also designed by Tourtellotte, along with his later collaborator, Charles Hummel.  Although it may look rather small from the street, the home extends back quite a ways and actually encompasses over 5,600 sq feet in all.  Included in that square footage is this beautiful (and large) four- bay carriage house (below) that's accessible from the street running parallel to Harrison behind the main house.  For more interior and exterior pictures of the home, click here.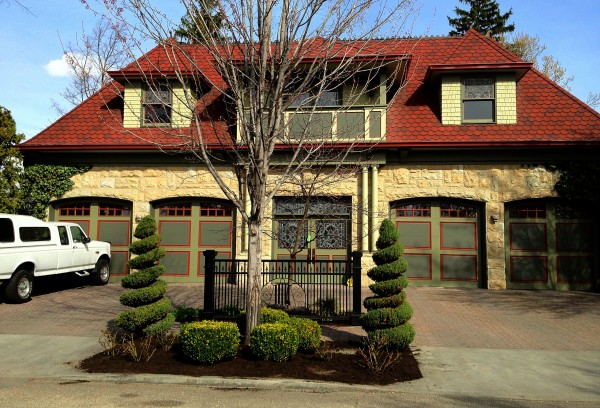 The second home that caught my eye is a hulking Spanish Mission style home (below), nicknamed "The Lion House," that was originally built for G.W. Bond who retired in Boise following a successful business career in San Diego.  Bond was fond of the Spanish Mission style that's omnipresent in Southern California, and commissioned Tourtellotte & Hummel to bring his vision of a grand Mission home to life.
The interior of the home (below) has all the hallmarks of a classic craftsman home – leaded glass windows, gorgeous oak hardwood floors, built-ins galore, and a beefy mantel over a custom-tiled fireplace – to name a few.  The home was also recently listed for sale!  So if you've got about $1.5 million dollars to spend, it can all be your's!
Heading southeast from Downtown, the Warm Springs neighborhood is home to many of the larger estates built by Boise's first wave of prosperous businessmen.  The Regan House (below), designed by Charles Hummel's architectural firm in 1911, is another Mission style home, although at first glance, it appears to exhibit some Asian characteristics as well.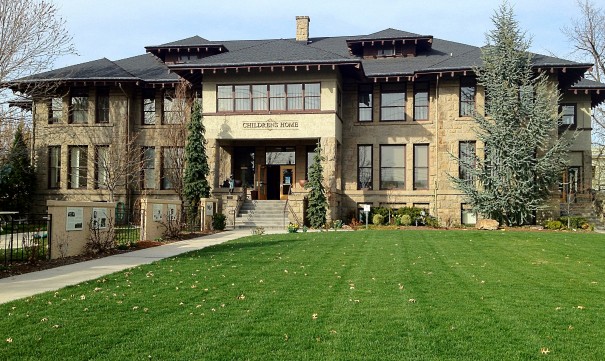 One of the more notable buildings along Warm Springs Drive is the Children's Home Society's Counseling Center.  Designed by Hummel and built in 1910, the Center's  exposed rafter-tails, and large over-hanging eaves are mostly craftsman details, while it's stone façade and low-sloping hipped-roof suggest a subtle Prairie Style influence as well.
The homes that line Warm Springs were, in most cases, built on a much grander scale than their counterparts in other neighborhoods, and many different styles can be found here.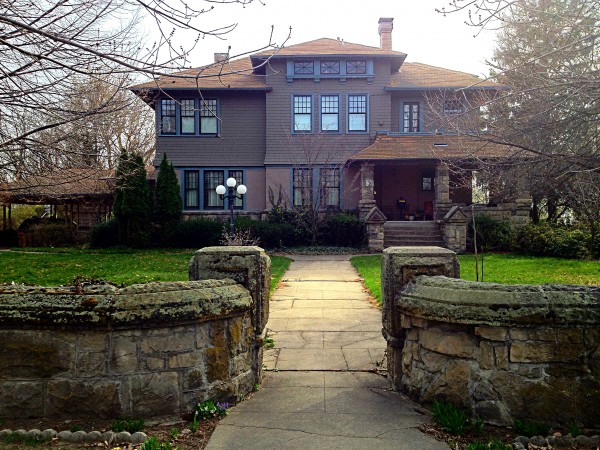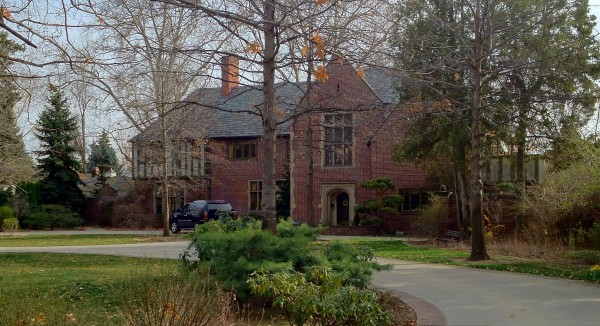 One of the more bizarre homes is what has become known as "Warm Springs Castle" (below).  Only recently completed, the home has been the subject of controversy among neighbors and townspeople alike since the day construction began.  When asked about its design, the home's owner, Tim Barber, responded by saying, "As the last vacant lot on Warm Springs Avenue, the location needed a landmark home."  A landmark home it certainly is, and it's become one of the most recognizable residences in all of Boise.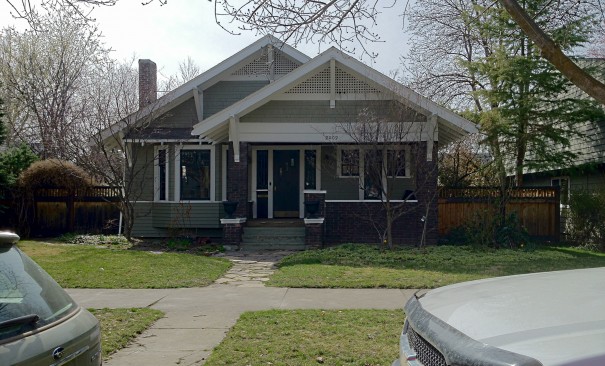 Boise, Idaho is a fun town with a lot to offer, not the least of which is its architecture.  So if you find yourself there, get out and have a look around, you won't have to look hard to find something you like…!
Comments
comments