Although neither craftsman nor bungalow, the story behind the beautiful and historic Ladd Carriage House is a compelling one that I wanted to share. Today, it may seem a bit out of place among the modern high-rise buildings that surround it on a busy corner in downtown Portland, Oregon, but when it was built, the Ladd Carriage House was right at home as part of an expansive estate owned by one of the city's first true entrepreneurs.
William S. Ladd was born in Vermont in 1826 and grew up in New Hampshire working on his family's farm before leaving home at age 19 to go work for the Boston, Concord & Montreal Railroad.  A few years later at the age of 25, Ladd headed west to San Francisco seeking a new life in the mercantile business.  The year was 1851, and by this time the San Francisco marketplace had become saturated, so Ladd decided to head north to the Oregon Territory (Oregon wouldn't gain statehood until eight years later), and he set up shop there in the spring of that year.
The day after Ladd arrived in Portland, he rented a small storefront in downtown Portland and started selling a small load of wine and liquor that he had brought with him from San Francisco.  At the time, although Portland had well under 1000 residents, it also only had a handful of  saloons that sold alcohol.  Almost overnight, Ladd's business was booming, and in his first 4 months, he made $2000 (a huge sum of money in 1851).  Ladd quickly parlayed his new found success as a businessman into other ventures and over the next ten years he would twice serve as the city's mayor and branch out into banking, before getting into shipping and railroads, while later becoming a major land-owner in the Pacific Northwest region.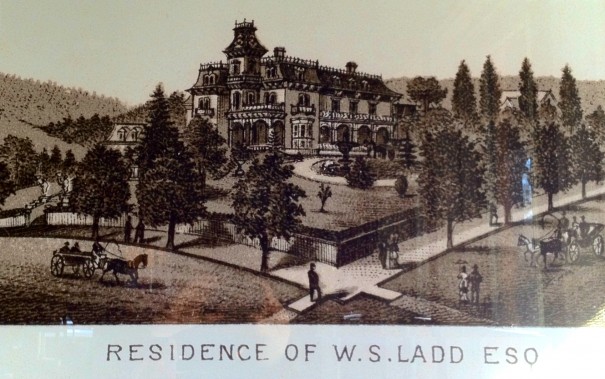 With the earnings from his many business enterprises, Ladd purchased a large parcel of land at the corner of what is now SW Broadway & Columbia, and built a massive Queen Anne/English Stick style mansion designed by Joseph Sherwin.  A few years later, the Ladd Carriage House was built across the street to house his stable of horses and carriages, while also serving as living quarters for his carriage-driver and other work-hands.
Ladd was involved in countless businesses throughout his later years and was the driving philanthropic force behind many of Portland's charitable endeavors.  At the time of his death in 1893, the Ladd estate was valued at over $10 million dollars and included over 4000 acres of land owned throughout the region.  Following his death, however, it quickly became obvious that his descendants did not possess the same business savvy that helped build the family fortune.  Some of his real estate holdings were sold off and developed into the affluent present-day neighborhoods of Ladd's Addition and Laurelhurst (home of The Craftsman Bungalow, by the way), and another large tract of land in SE Portland later became the campus of Reed College.  Sadly, the Ladd Mansion was demolished around 1925, but fortunately the carriage house was left untouched and was primarily used as office space over the years, with periods of  vacancy in between.
Noting its historical significance, the Ladd Carriage House was placed on the National Register of Historic Places in 1980, but by the early 2000's, its owners were looking for a more suitable, long-term tenant to fully restore the property.  The adjacent church (above at far left) that owned the entire block was beginning to entertain offers for redevelopment of the site which included the construction of a high-rise condominium building on the northern half of the block.  As plans for the high-rise moved forward, the fate of the carriage house was in jeopardy as it would have been in the way of the excavation needed to provide underground parking facilities for the twenty-three story condominium building.
Thanks to the tireless efforts of the The First Christian Church, the Friends of Ladd Carriage House, and especially NW Structural Moving, a plan was put in place to move the carriage house to a nearby parking lot a few blocks away while construction of the Ladd Tower high-rise took place.  So on June 16, 2007, that's exactly what happened.  The time-lapse video (above) shows the 350 ton building being lifted off of its 100+ year old foundation and "driven" up SW Columbia Street…pretty amazing!
The Ladd Carriage House was displaced for a little over a year, and was finally returned to its new/old home in October of 2008.  If you've ever wondered how a building of this magnitude can be moved in its entirety, you'll want to check out the video above.  It documents the moving of the carriage house back to its original site and the difficulties involved in such a huge undertaking.
Once it had been returned to its rightful home, the carriage house underwent numerous structural modifications to shore up its bones – while respecting its historical context – to get it ready for the next 100 years.  It was during this time that the exterior was also completely restored and painted with a brown color palette.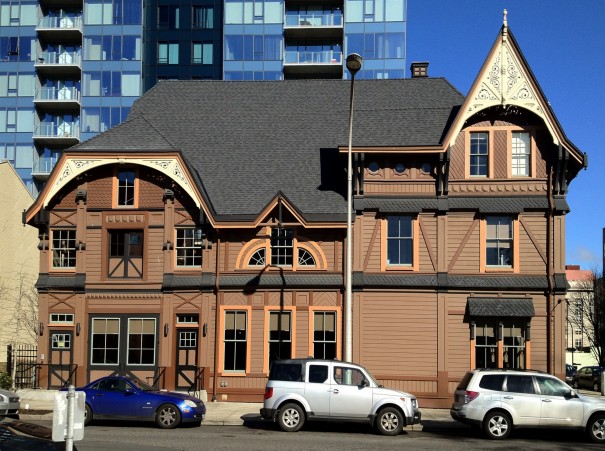 After all that hard work, a suitable tenant still needed to be found to put the building to good use.  Enter Lisa Mygrant – a young, intelligent woman who grew up in Oakland, and later moved to London to help a friend open multiple bakery-cafes, before moving to Ireland to attend Ballymaloe Cookery School.  She then moved back to the US and worked in several high-end restaurants, until she was ready to branch out on her own.
Mygrant moved quickly to acquire the building and assembled a talented team of craftspeople to bring her vision of a farm-to-table restaurant, Raven & Rose, to fruition.  As mentioned earlier, the exterior of the carriage house had been fully restored, but the interior was still a blank canvas, waiting for its new owner to build-out the space in her own style.
It was important to Mygrant to use as much of the original fabric of the building as possible to honor the building itself, as a testament to its own longevity.  The restaurant on the first floor features exposed columns and beams along with original beadboard, as well as a wood-fired oven made of brick from the house's original fireplace.  Salvaged oak fence posts from Kentucky were remilled and used as flooring, while sustainably harvested lumber was used for the bar and its surrounding woodwork.  The result is an elegant, inviting space that provides the backdrop for enjoying classic, well-appointed cuisine.
Little touches like this hand-painted tile scene (below left) speaks of the Pacific Northwest's verdant natural beauty and rich agricultural history.
Upstairs, the former hay-loft (below) has been transformed into The Rookery Bar, a soaring space that puts the building's unique truss system on full display and couples it with cozy nooks for gathering with friends.
A massive fireplace (below) flanked by deep, cushy seating makes for a relaxing spot for sipping tasty cocktails, and a long soap-stone bar made by Wallace & Hinz looks as though it's always been there.
Since its opening in January 2013, Raven & Rose has garnered a lot of high praise, and after having Valentine's Day dinner there with my wife, I can see why – the food is delicious and the atmosphere is among the city's best.
The resurrection of the Ladd Carriage House would not have been possible without the synergistic efforts of all parties involved.  It's important that as a society we cherish and preserve these historic relics, and it's good to see that like-minded individuals can come together to achieve something that will be appreciated for generations to come.
So, hats off and congratulations to Lisa Mygrant and her team, along with the Friends of the Ladd Carriage House and everyone else who helped this beautiful old building dodge extinction.  I'm sure that William Ladd himself would be proud of what you've accomplished.

Comments
comments