As far back as I can remember, my family has been vacationing on a beautifully quaint barrier island in New Jersey known as Long Beach Island, or simply LBI.  After spending a week or two there just about every summer from birth through my early teens, some of my fondest childhood memories occurred on the white sandy beaches of this iconic New Jersey wonderland.  Whether it was building sand castles with my brother (below, that's me on the left!), splashing in the surf as a youngster or renting a big house with all of my cousins, aunts and uncles (all 14 of us!) when I was in grade school, I always enjoyed my time there.
Since I left the East Coast and moved to Oregon in late 2000, getting to LBI has become a much bigger commitment than
the 90 minute drive that it used to be when I was growing up.  The last time I was able to spend any time there was in 2008, when my wife and I spent a quick weekend there a few weeks after our wedding.  It was her first time visiting the Island, and she immediately fell in love with it, the same way that I had as a child so many years earlier.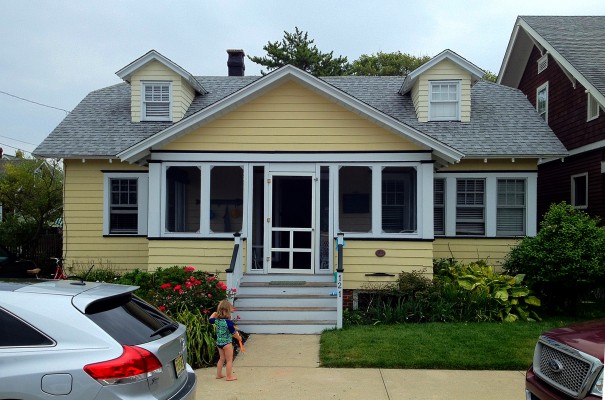 My brother and his wife, who live in New Jersey and now have three children of their own, started a new tradition a few years ago and rented an adorable beach bungalow (above) in Beach Haven, on LBI's southern end.  This year he invited our parents and my family to join them at that same bungalow, and we jumped at the chance.  Now that my wife and I have a three-year-old daughter of our own, we were eager to introduce her to the wonders of LBI.
The house, built in 1930, may look deceivingly small from the street, but with a few modifications that had been made over the years, its four generously-sized bedrooms were perfectly suited for all of us.  The cozy dining room (above) with fireplace is separated from the living room (below) by a pair of original colonnades.  One of my favorite details was in the backyard, where a brick terrace gives way to a wisteria-laden pergola with a cozy picnic table underneath, and what beach house would be complete without a hammock to relax in!
As a kid, summers on LBI were magical, but back then I was more interested in collecting seashells and building sand castles than anything else.  This time around, I took the time to appreciate the local architecture, especially since some parts of the Island were devastated by Hurricane Sandy in October 2012.  I was delighted that sprinkled in with some of the larger (and at times obnoxious) modern homes were countless bungalows – especially in Beach Haven, where some of the Island's oldest homes and buildings can be found.
The home right next door to our's (above) was a very traditional bungalow the likes of which you're most likely familiar with.  Shingled siding, a generous front porch, exposed rafter tails, and multiple roof brackets supporting over-hanging eaves – all the details are there, presented in a pleasing, well-proportioned package.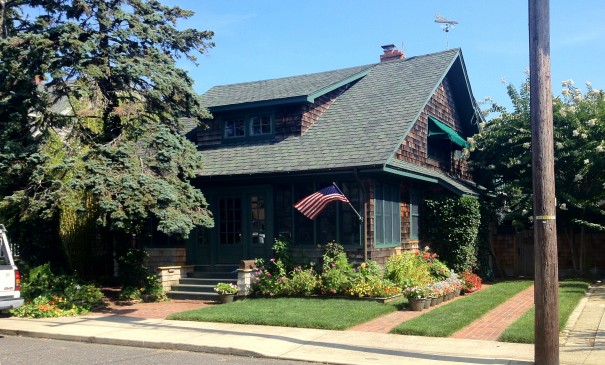 I hopped on one of the the bikes that was at the house one afternoon and set out in search of more bungalows.  It didn't take long for me to find plenty of examples of homes in various styles.  The home above was one of my favorites in the area.  The simplicity of its green window trim set against its weathered shingle siding was particularly attractive.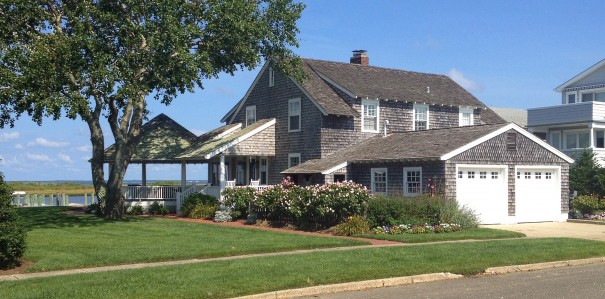 Since LBI is a barrier island, the mainland side of the island faces the bay.  This home (above) sat directly overlooking the bay and featured a welcoming gazebo and private dock.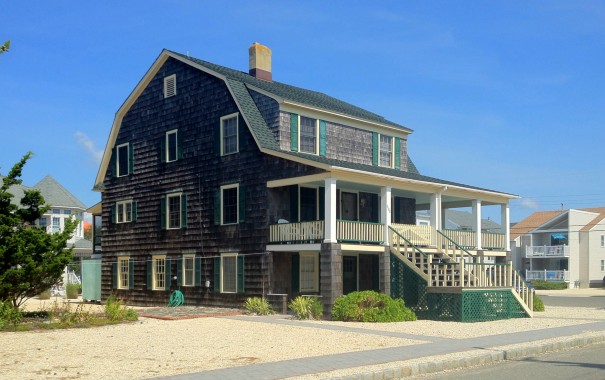 There were many examples of gambrel roofs on the Island.  The home above shows some Dutch colonial influences coupled with a large elevated front porch and central fireplace.
On the smaller end of the spectrum, the cozy cottage above is balanced with plenty of outdoor living space.  You can see how it's dwarfed by new construction in the background.
Here are a few more examples of the many different types of bungalows in Beach Haven.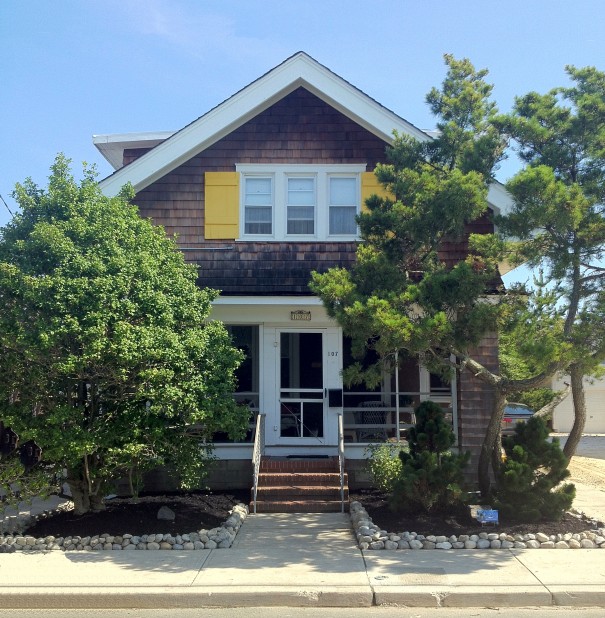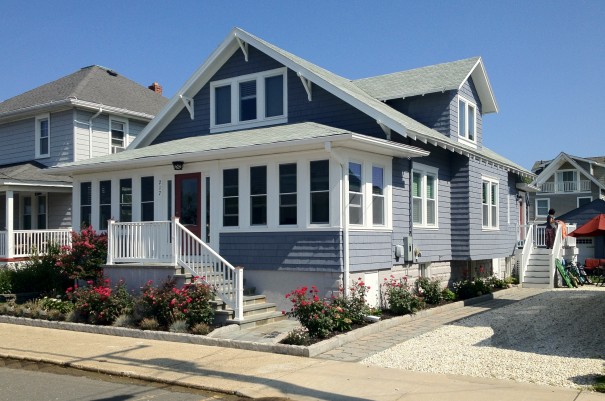 This grand craftsman home (above and below), which sits just a half block from the beach, was my favorite – hands down.  I've never before seen dormers penetrate the upper roofline in this manner, and that detail alone adds dramatic visual interest to the home's façade.  Its large wrap around porch is also perfect for summers at the beach.
"Portia Cottage" (below), designed in 1882 by well-known Philadelphia architect John Allston Wilson, is a one of only a handful of examples of Shingle/Stick Style on the Island.  Its two chimneys, connected by an arching bridge, are especially notable.
The original owner of Portia Cottage, railroad executive Edward H. Williams, sold the home after just one year and commissioned Wilson to design the Queen Anne Victorian home below just three blocks south.  The home, which happens to be on the same block as the bungalow that we stayed in, is now operated as the Williams Cottage Inn.
Wilson also designed an identical Queen Anne home (with an inverted floor plan) built right next door (pictured above in the background and also below) for Edward Williams' colleague, and fellow partner at the Baldwin Locomotive Works, John Converse.  Although these homes aren't bunglaows, I felt they were worth including to demonstrate the multitude of different architectural styles in the area.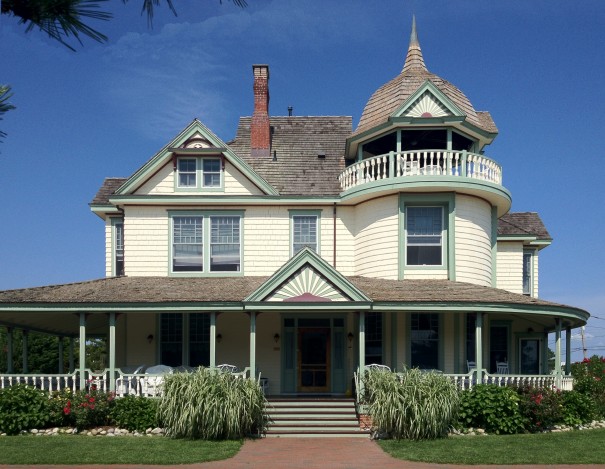 It was so fun to introduce my daughter to Long Beach Island, the same way that I had been introduced to it nearly 40 years earlier.  And to have her enjoy it so immensely with her two similarly-aged cousins, was even better.  I know this won't be our last time visiting the Island, and we look forward to returning again soon!

Comments
comments