Perhaps it was serendipitous that a internationally recognized horticulturist would end up living in a home that once belonged to a descendant of John Olmsted, the prominent landscape architect who designed countless parks and public spaces across the country.  But that's exactly what happened.  First moving to the property as a renter in 1995, Sean Hogan, founder and owner of Cistus Nursery, began to re-imagine the property as a proving ground for his forward-thinking approach to exotic flora landscaping in the Pacific Northwest.  He eventually purchased the home in 2012, and he's recently listed it for sale.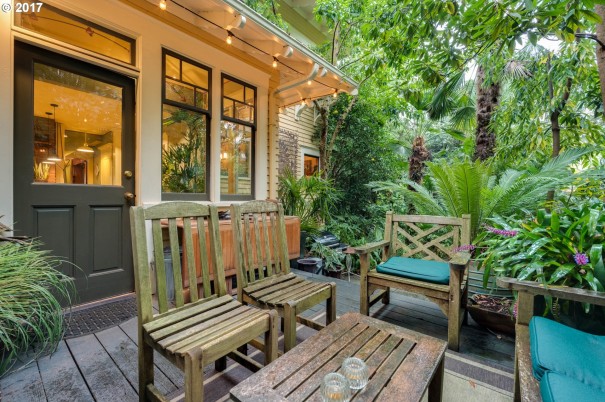 The home, located in Portland's Irvington neighborhood, was originally built in 1915 and exhibits all of the classic lines of a Portland Foursquare (below as seen from the street) – a  full width front porch, deep overhanging eaves, exposed rafter tails, and a handsome third floor hip-roofed dormer.
From the front porch (above), a glimpse of the inside is made available through large living rooms windows with custom leaded glass.  And once inside, the welcoming entry (below) features more leaded and stained glass.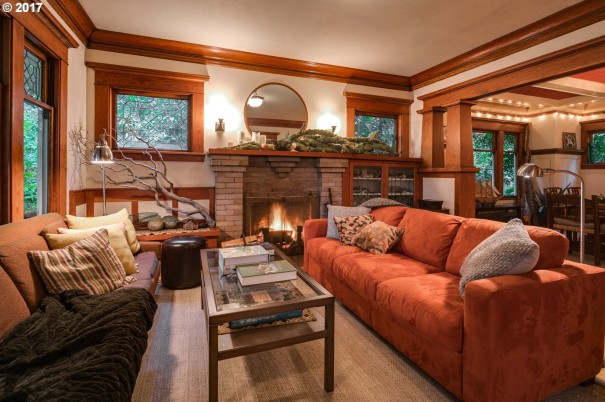 In the living room (above), original woodwork and built-ins accent the home's bold central fireplace.  Classic craftsman collonades set off the entry into the dining room, where a grand built-in hutch and coffered ceiling make a formal statement (below).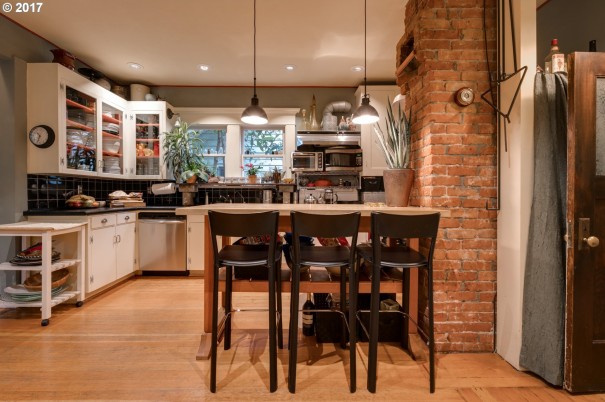 The kitchen (above) has exposed brick and other period details that are in keeping with the 1915 era during which the home was built.  Upstairs, there are three bedrooms with an additional bonus sleeping area on the third floor.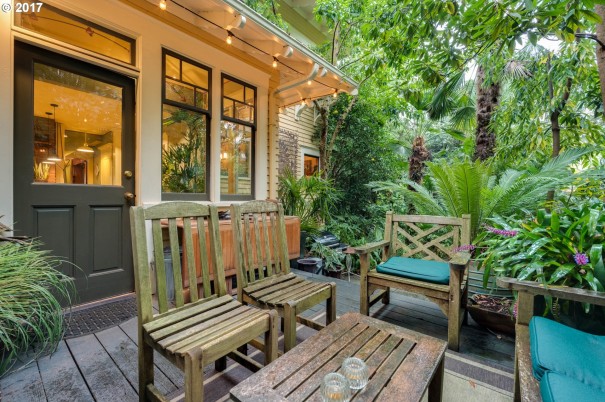 But the real fun starts once you step outside from the kitchen (above) on to the back deck (below), where the lush tropical landscaping that Sean has worked so tirelessly on over the last 20+ years can really be begin to be appreciated.
Steps off the back deck lead through bamboo-lined walkways, towering palm trees and and verdant foliage.  Secluded hideaways tucked around every corner appear to be more at home in Bali than in the Pacific Northwest, but that's exactly the vibe that homeowner Sean Hogan has been able to achieve.
Hogan has recently listed the property for sale and plans to move to nearby Sauvie Island, located just north of Portland on the Columbia River.  There, he'll live on the grounds of Cistus Nursery, the botanical nursery he owns, so that he'll be able to focus more closely on planning and designing residential, commercial, and public gardens.
For more photos and information about the property, please visit the listing page for the home provided by The Jane Garcia Team at Keller Williams Realty.
Images featured in this article are by Claire Takacs and/or Keller Williams Realty.  H/T to Janet Eastman for her article at the Oregonian / Oregon Live.

This post is part of our "Peek Inside" series where we showcase Arts & Crafts homes from across the country that are currently for sale, or were recently sold.  Some of them may be fixers that are just begging to be restored, others may be fully restored and move-in ready (like this one), and still others may be somewhere in between.  If you have a home that you'd like us to feature, please contact me for details!

Comments
comments