Recently I had the good fortune of traveling to Los Angeles for business, and while there I was able to fulfill a lifelong dream – making a pilgrimage to "The Ultimate Bungalow": The Gamble House in Pasadena, California.  Designed in 1908 by the architectural firm of brothers Charles and Henry Greene, The Gamble House embodies the Greenes at the absolute pinnacle of their creative prowess and has been referred to by many as the one of the finest examples of Arts & Crafts architecture anywhere in the world.
I had read books about and seen countless pictures of The Gamble House, but nothing can really prepare you for seeing it in the flesh.  There was a distinct sense of awe and peace that swept over me as I walked the grounds that no picture can rightly do justice.  It's as though you're viewing a priceless masterpiece in a world-class museum, except the work of art isn't hanging on a wall in front of you – it's surrounding you, and inviting you in.
As I approached the home, the first thing that struck me was its wide, hunkered down stance (see above).  Long horizontal lines are a hallmark of many Greene & Greene homes, but here, the brothers emphasized the width of the house and in doing so, took advantage of the relatively shallow lot on which the house sits.
As you make your way around the side of the property, the large sleeping porches dominate the northern elevation.  There are three such sleeping porches (all can be seen below) that the Greene's incorporated into the design in order to capture the breezes that cascade down from the mountains and help cool the house.
The rear of the house (below) has almost a "tree house" look to it, with its grand sleeping porches and large eaves juxtaposed against its unconventional roof line.
Behind the clinker brick wall (above), a vast private terrace awaits, complete with a bubbling fountain, native plants and a view of the mountains in the distance.
Beneath the sleeping porch shown above, terracotta tiles blanket the floor of yet another indoor-outdoor space (below) that shows off the redwood shake shingles and custom lighting that are omnipresent throughout the house.
Back at the main entry, the front door (below) is actually three distinct doors and features amazing stained glass with a "tree of life" motif designed by Charles Greene and executed beautifully by German-born glass artisan, Emil Lange.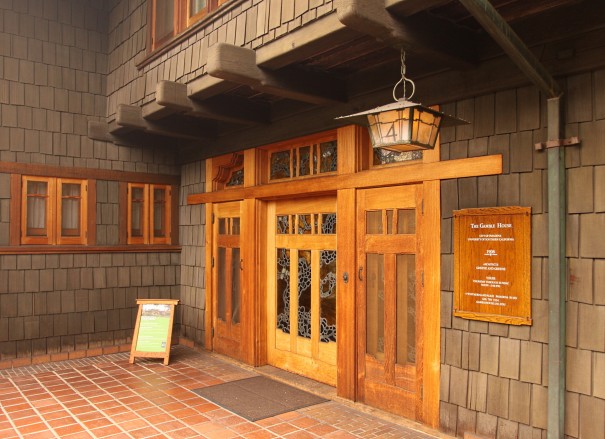 The exterior of the house is absolutely magnificent, and where its incongruity is often highlighted and celebrated, it is gracefully contrasted by the interior's exquisite attention to precision and detail.  Now that you've seen the outside, be sure to continue the tour of the interior in A Pilgrimage to The Gamble House: "The Ultimate Bungalow",  Part II where I expound upon the utter brilliance that is the home's interior…

Comments
comments