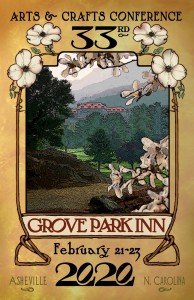 Each February, the eyes of the Arts & Crafts community are focused on Asheville, North Carolina, and the upcoming 2020 edition marks the 33rd year of the National Arts & Crafts Conference at the Grove Park Inn.
"It's been a perfect match," explains founder and author Bruce Johnson, himself an Arts & Crafts collector and historian. "You start with an historic Arts and Crafts hotel filled with the world's largest collection of Arts and Crafts furniture, you bring in 125 exhibitors selling antiques and new works in the Arts and Crafts style, then you open the doors to Arts and Crafts collectors from across the country, and you have an unbeatable combination for a fantastic weekend of seminars, tours, workshops, demonstrations and, of course, great pieces – old and new – to take home."
Since the day it opened in 1913, the iconic Grove Park Inn has been hosting like-minded celebrities, dignitaries and those who appreciate the Arts and Crafts style.  Ten United States Presidents including Woodrow Wilson, Franklin Delano Roosevelt, Bill Clinton, and Barack Obama have all stayed at the Inn, as well as a veritable who's-who of early 20th century luminaries including the likes of Thomas Edison, F. Scott Fitzgerald, Elbert Hubbard, Henry Ford and John D. Rockefeller, among countless others.
The conference is typically the highlight of the year for those who attend, and certainly wish that I could attend every year.  Where else can you find so many Arts and Crafts enthusiasts under one roof? And such an idyllic setting??  Nowhere.
Here is some additional information about the conference provided by Bruce Johnson:
Since 1988, a new generation of Arts & Crafts collectors and homeowners have been returning to the Grove Park Inn every February for the National Arts and Crafts Conference and Antiques Show. Nearly 3000 people are expected to arrive at the Grove Park Inn again this February for what will be the 28th Arts & Crafts Conference.
People interested in the Arts and Crafts style can attend at three different levels. For those who want the complete Arts and Crafts experience, including a room at the Grove Park Inn and entry to all of the seminars, tours and discussion groups, the Grove Park Inn has an Arts & Crafts Weekend Package for either one person  or two.
Those who plan to stay elsewhere, but want to enjoy three days of seminars, demonstrations, tours and discussions, as well as entry to the shows each afternoon, can purchase just the three-day Seminar Package through Bruce Johnson's office at (828) 628-1915. Those who only want to shop the booths of 125 exhibitors selling furniture, pottery, metalware, jewelry, artwork, lighting and textiles each afternoon can buy a ticket good for all three days at the door.
The three selling shows will be open on Friday, from 1:00pm-6:00pm; on Saturday, from noon until 6:00pm; and on Sunday, from 11:00am until 4:00pm.
Complete information, including lists of seminar speakers and daily discussion groups, can be found at www.Arts-CraftsConference.com or by calling (828) 628-1915.
Be sure to stop by www.Arts-CraftsConference.com for all the latest news and updates about the conference.  And if you can't make it this year, reservations for next year's show are being taken now!
"The Craftsman Spotlight" is an ongoing series where artists, craftspeople, and their businesses are featured.  This time, we're thrilled to spotlight the Arts & Crafts Conference at Grove Park Inn!   If you're interested in featuring your business with The Craftsman Bungalow, please click here for more information.

Comments
comments