Filmmaker Joaquin Montalvan always knew he wanted to live in a bungalow – even before he knew what a bungalow was.  Growing up, he had lived in a Spanish Mission style home with a welcoming front porch, hardwood floors and a fireplace that his family frequently used.  Those three features were ingrained in his mind at an early age, and he knew that any home he might one day purchase would have to have all of them.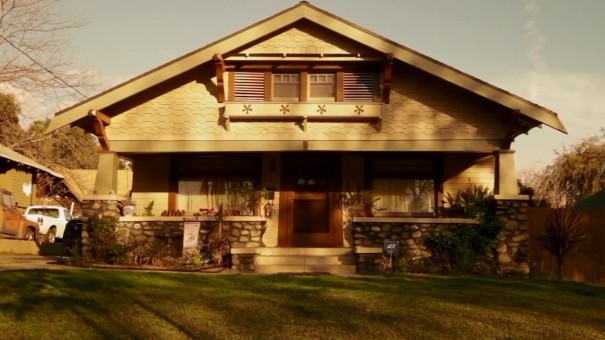 "I remember as a kid walking around barefoot on those hardwood floors and feeling the wood creaking, and the floor giving beneath me, and liking how that instability made it feel as though the house was alive," says Montalvan.  "Years later, when I set out to look for a house for me and my wife, I just told the realtor – I want a porch, I want hardwood floors, and I want a fireplace.  And she responded, 'Well that's a bungalow.  You should go to Bungalow Heaven.'"
And in 1997, that's exactly what he did.  Over the next 18 years, Montalvan would cultivate friendships and bonds in the neighborhood and become part of its tight-knit community, paving the way for him to film and direct the highly-anticipated new documentary, Bungalow Heaven: Preserving A Neighborhood, presented by American Bungalow magazine.  You can watch the trailer below and order your copy of the film here.
In the late 1990s, not long after moving to the neighborhood, Montalvan casually started taking photos and documenting the annual Bungalow Heaven Home Tour, eventually putting together a short video and sharing it with the neighborhood association that puts on the tour.  As a filmmaker and documentarian, it only made sense for him to take the next step and direct a full scale film about the history of the neighborhood, its residents, and the constant threat that old homes like these face from developers and demolition.
"I had done other documentaries before where I was looking for a story," Montalvan says.  "But for this project, I already knew what the story was, because it's been going on right in my own backyard."
Interviewing everyone from neighborhood residents, to bungalow historians and architectural scholars, Montalvan takes us on a journey over a century in the making – from Pasadena's early days as a farming and agriculture center, to its discovery as a destination for those seeking solace in its year-round temperate climate, to its present-day status as a vibrant cultural hub away from the hustle-and-bustle of Los Angeles.
The film centers around the residents' efforts over the last 25 years to preserve the charm and timelessness of not only their idyllic neighborhood, but Pasadena as a whole.  Officially established as the Bungalow Heaven Landmark District in 1989 – the city of Pasadena's first such designation – it's mission has always been "to preserve the historic qualities of the area and to deter demolition, destruction, alteration, misuse, or neglect of architecturally significant buildings that form an important link to Pasadena's past."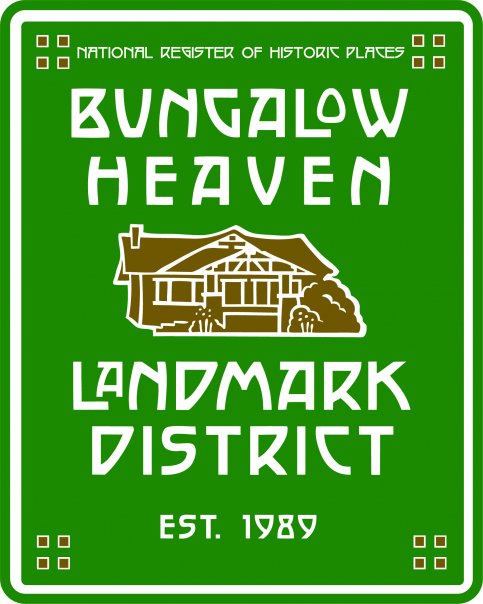 "Bungalow Heaven is an example – a really good example – of how to preserve a neighborhood through the energies of like-minded people," says John Brinkmann, founder and publisher of American Bungalow magazine, in the film.  "It was not done out of political reasons or anything else, it was strictly a social movement."
More recently in 2008, thanks again to the tireless efforts of its residents, the Bungalow Heaven was added to the National Register of Historic Places.
Montalvan's unassuming approach to interviewing people in their own homes enabled them to feel comfortable and relaxed, like two neighbors sharing in a casual conversation.  "I basically showed up as a one-man band, with a camera mounted on a tripod, and I would duck down so that their eye level matched where the camera was, and just talk to people, and they really opened up."
Along with the interviews, Montalvan applies his extensive experience in cinematography, using different techniques of subtle tracking and dolly shots,  to capture the homes in such a way that it almost feels as though you're walking through the homes yourself.
In the film's opening credits, Montalvan shot images of his own home (above) and applied an 8mm film filter to it to give it the look and feel of actual archival footage.  It's a wonderful effect and really sets the tone for the whole film.  "I wanted to shoot it as if someone went through the house with a camera and shot footage of the house for posterity, as if it was going to be torn down," he explains.
"Our house was built in 1911, and we're actually only the second family to have lived in it," he continues.  "The last person to live in it before us was the grand-daughter of the original owners."  It's that kind of stability and continuity that makes Bungalow Heaven – and other neighborhoods like it – so special.  There's a palpable sense of community that gets passed down from generation to generation, and that's something that you just don't see that much of anymore.
Carol Polanskey, former Bungalow Heaven Neighborhood Association president from 2009 to 2011 perhaps says it best in the film.  "My role in this house is to be the caretaker.  I want to take care of this house in the same way that it has taken care of myself and my family.
"I'm here for a very short time compared to the length of time that this house has been," she continues.  "This house has been here through many generations, many different families, and my hope is that it continues to serve this same purpose for many, many years after I'm gone, or my children are gone.  There's such great potential for this house to live on in the way that it is now, and the more that it stays true to itself, the more it will be valued in the future."
Looking back on the project, Montalvan is most proud of the heart and spirit of the community that comes through in the passionate testimonials of those that are interviewed in the film, and he would love to see the film become part of a movement that keeps the wheels in motion for the continued preservation of Bungalow Heaven – as well as other places like it – across the country.
"It has always been my hope when I made the film that it might help to bring interest in Craftsman architecture to a younger generation," he says.  "There needs to be some kind of spark, and I'm hoping that this film will be a part of that spark."
In a fitting ending to the film, noted Arts & Crafts historian, author and owner of the Ernest Batchelder House since 1972, Dr. Robert Winter, sings his delightful rendition of George F. Devereaux's In the Land of the Bungalow during the closing credits.
Winter's jovial version of the song is the perfect cap to the film and hearkens back to Pasadena's earlier, simpler times when people were first drawn to the land of the bungalow.
In the Land of the Bungalow by George F. Devereaux, as sung by Robert Winter
I just got off the sunset train
I'm from the Angel town
The golden West, Los Angeles
Where the sun shines all year round
I left a girlie back there
She's the sweetest girl I know
She said goodbye, I'll wait for you
In the land of the bungalow
In the land of the bungalow
Away from the ice and snow
Away from the cold, to the land of gold
Out where the poppies grow
To the land of the setting sun
And the home of the orange blossom
To the land of fruit and honey
Where it does not take much money
To own a little bungalow
The film has been shown in limited engagements in and around Pasadena, including headlining the 2015 Pasadena International Film Festival, and it is available for purchase on AmericanBungalow.com.
To order your copy of the DVD, please click here to be redirected to AmericanBungalow.com.

Comments
comments