This year the Architectural Heritage Center expanded their Annual Kitchen Revival Tour beyond just kitchens to showcase entire homes, and re-named the tour the Portland Old House Revival Tour.  I've covered this tour for the past three years, and now in its 16th year overall, the tour never disappoints.  In case you missed it, here are a few links to get you caught up on what you may have missed on the 14th, 15th, and 16th annual tours.
This year's tour featured homes of several different styles -  from Victorian to Mid-Century Modern – but I've chosen to highlight two of this year's homes that are more on Craftsman and Arts & Crafts end of the spectrum.  The first home I toured was this handsome, secluded home in Southeast Portland.  Built in 1900, this home was one the first in the neighborhood and its large wooded lot remains very much the same as it would have been back then.
With its multiple rooflines and seldom-seen second floor bumpout dormer (above), this home has some very unique exterior details.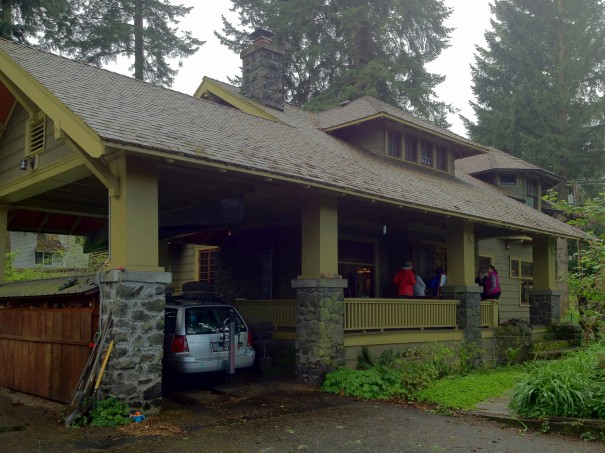 Another one of those attractive exterior details is large covered from porch that connects to the porte-cochère (above) and provides a privacy barrier between front of the house from the home's back patio (below).
Once inside, a double living room with all original woodwork awaits.  On one side is this cozy sitting area (below), that leads into what was originally the home's dining room…
…And on the other side is a stone fireplace flanked by built-in seating (below).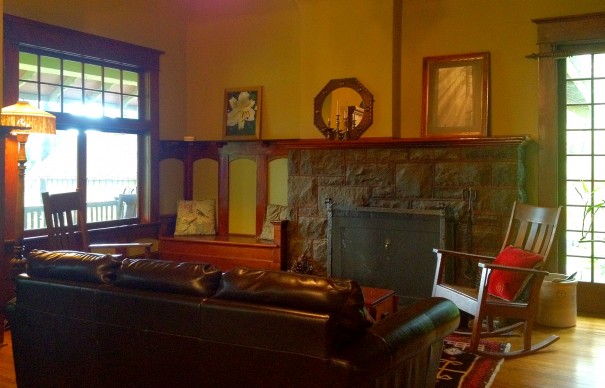 Up a couple steps, and adjacent to the French doors next to the fireplace, is a small study (below).  More original wood work and a built-in desk with cabinets on both sides make this a perfect spot to enjoy reading – or possibly even writing – a good book.
The home's kitchen (below) actually won the Architectural Heritage Center's "Ugliest Kitchen Contest" in 2006, but you'd never know it today.  Designer CJ Hurley revitalized the kitchen, bringing it up-to-date with amenities while taking it back-to-date with authentic period details.  Slate countertops, marmoleum floors, Doug Fir cabinets with wavy glass doors, and a farmhouse sink all coalesce to make this kitchen look as though it has always been there.
Off the kitchen, an ill-conceived addition from decades earlier has been re-imagined as an informal dining nook with access to the home's back patio.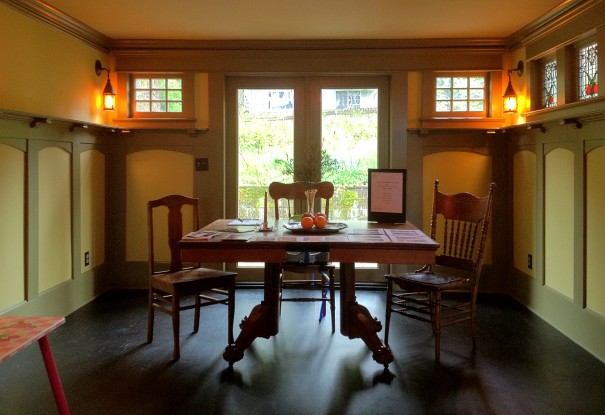 New custom stained glass, lighting and paneling (below) unify the look.
Another house on the tour that I was particularly fond of was this 1894 home in the Grant Park neighborhood.  Local designer, Bo Sullivan of Arcalus Period Design converted the previously drab kitchen into what he refers to as "a colorful interpretation of the Swedish Arts & Crafts Movement."
The layout of other parts of the home remain very much in their original condition including the living room and dining room (below).
An original corner fireplace (above) and other period details including the salvaged stained glass window (below) – one of two like it in the home – were brought in to harmonize the look with the rest of the home.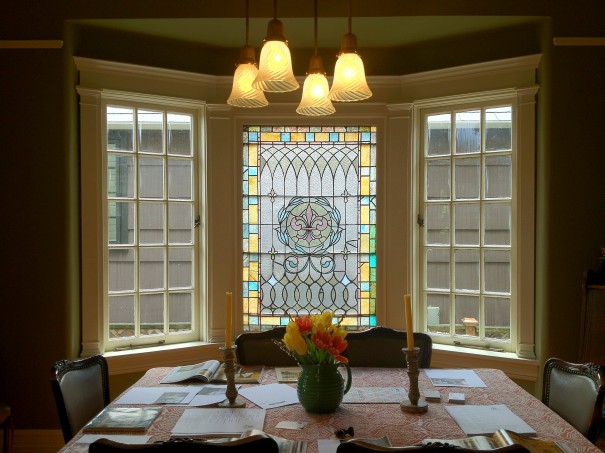 At the far end of the kitchen (below) a staircase leads down to a finished basement and also provides access to a cozy garden in the backyard…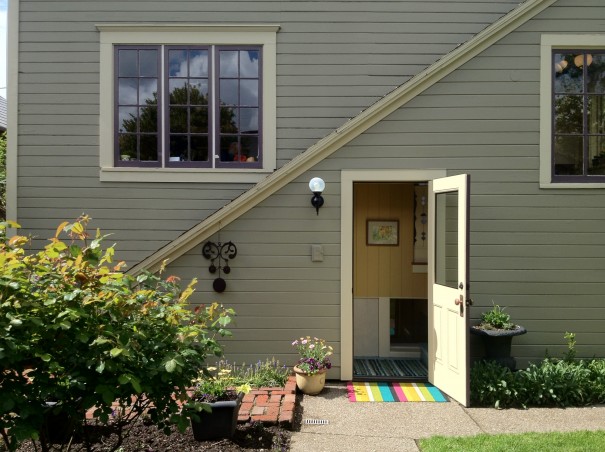 Outside along with the gardens is a custom trellis complete with a swinging bench chair – a perfect spot to enjoy the yard!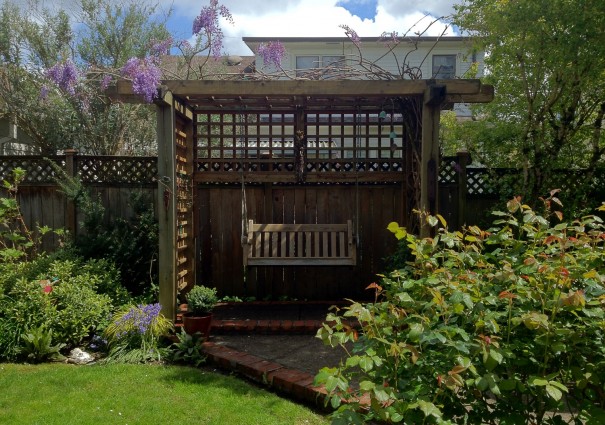 The AHC Old House Revival Tour continues to be my favorite house tour in Portland, and I'm already looking forward to next year's tour.  I always take away a tremendous amount of inspiration for my own future projects and get to compare notes with the great people who've also been through the ups and downs of a major remodel.  I hope you've enjoyed it as much as I have!
For more information about future tours and other events, please visit the Architectural Heritage Center.

Comments
comments