As far back as he can remember, Brett Johnson owner of Craftsmen Studio has always been a do-it-yourself  kind of person.  Growing up in rural Missouri, he got his start helping family members with building and remodeling projects, and eventually went out on his own – doing everything from carpentry to masonry.
At the age of 17, Brett met his future wife and was introduced to the Arts & Crafts Movement by her father, Chris Efker – owner of  Craftsmen Hardware, makers of hand crafted, copper, Arts & Crafts Style hardware.  Putting his carpentry skills to work, and inspired by his newfound appreciation of Arts & Crafts, Brett started making furniture.  "I began building Stickley reproduction furniture simply because I wanted it for my own home," he says.  "I live in a pretty isolated area, so if you want something specific, unique, and well-built (not mass-produced), you usually have to figure out how to build it or do it yourself."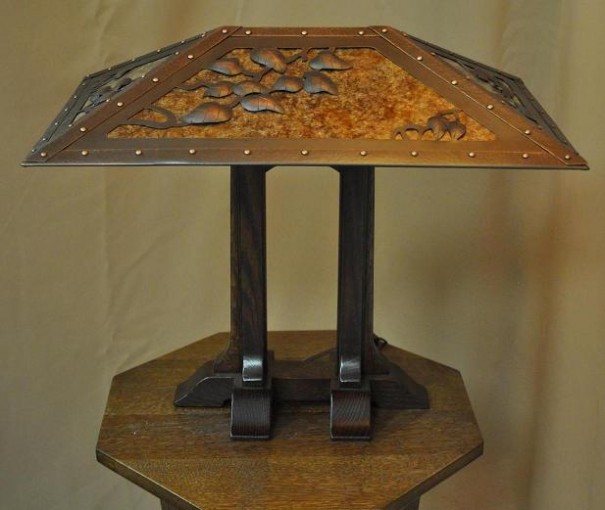 Not long after that, Brett began building table lamps, and following a visit to The Gamble House in Pasadena, California, it wasn't a far leap to Greene & Greene style lighting.  "I have a great appreciation for the simplicity and functionality of the designs of the turn of the century craftsmen," Brett explains.
"The pieces and designs I'm influenced by and inspired to build have an inherent beauty because of those two characteristics – simplicity and functionality," he continues, "and also because they're built by a real person with real raw materials and will withstand the test of time. I'm motivated to recreate each of these qualities in the pieces I create, with the intent of them becoming heirlooms, not something trendy or disposable."

In addition to his Green & Greene inspired lighting, Brett has expanded his offerings by adding furniture in that same style.  "One of the reasons I love Arts & Crafts aesthetic is that the furniture lasts forever, and doesn't really go out of style," Brett says.  "I interpret it as a more authentic, cleaner, simpler way of living with an appreciation for everyday life and nature."
Brett crafts all of his pieces at his workshop located about a hundred feet from his home in bucolic Keytesville, Missouri.  "The spirit of the Arts & Crafts Movement hasn't necessarily shaped other aspects of my life, but rather, it's just fallen in line with them," Brett concludes. "Living in the rural midwest allows for a quieter, simpler life, and I appreciate that."
To see more of Brett's work, please visit the Craftsmen Studio website at www.Craftsmen Studio.com.  He offers dozens of different designs of Arts & Crafts themed furnishings, and he's also happy to accept commissions and custom design orders.  Please contact him at any of the methods listed below for more information:


Craftsmen Studio
1005 Professor Lane
Keytesville, MO 65261
brett@craftsmenstudio.com
660-973-4608
"The Craftsman Spotlight" is an ongoing series where artists, craftspeople, and their businesses are featured.  This time, we're thrilled to spotlight Craftsmen Studio!   If you're interested in featuring your business with The Craftsman Bungalow, please click here for more information.

Comments
comments