On a recent business trip to Cleveland, I had some free time one afternoon to check out the city's rich history of Arts & Crafts homes.  I recalled a great article in the Spring 2012 issue of American Bungalow that featured the Cleveland Heights neighborhood situated just a few miles east of downtown.  Armed with my GPS and camera, I set out to have a look for myself…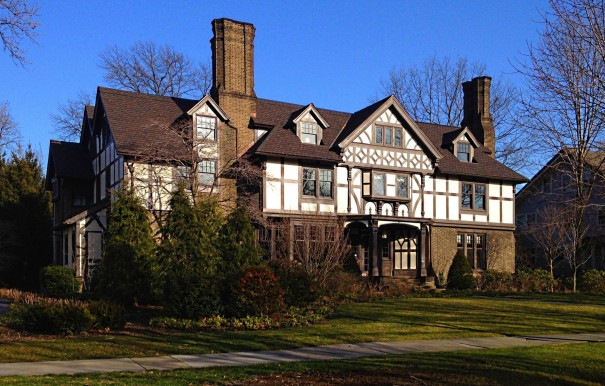 Situated on a bluff, the Cleveland Heights neighborhood began to attract Cleveland's more affluent citizens in the 1870's.  First they built summer homes that took advantage of the views of Lake Erie and downtown, then in the early part of the last century with the advent of street car lines and the automobile, construction boomed with large estate homes built for year-round residence.
The area is home to an eclectic array of architectural styles:  Arts & Crafts, English/Tudor Revival, Storybook, French Chateau, Victorian, and Prairie Style, to name a few – and they all have their own characteristic charm.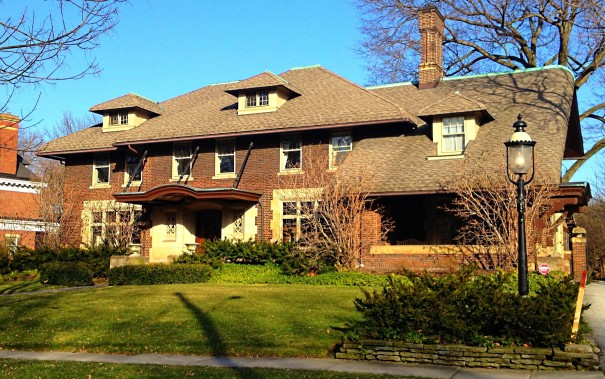 The H.A. Adams House (above) was designed by Architect Harlen E. Shimmin and built in 1916.  It and several homes in the pictures that follow feature rolled-edge roof lines – a design element that mimics the look of thatch-roof cottages found throughout England and mainland Europe.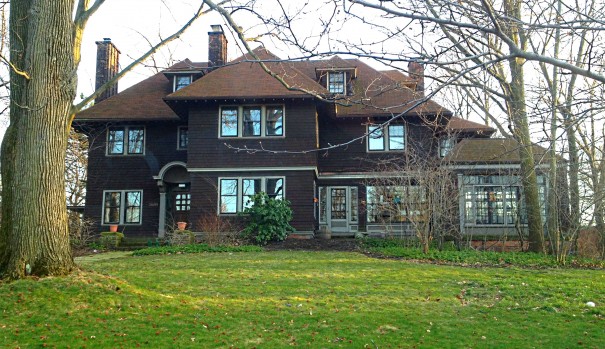 The next three homes (below) are examples of more traditional architecture that still feature rolled-edge roof lines.
These two homes (above and below) aren't textbook Victorians, but their rather steeply pitched roofs and abundance of ornate detailing pushes them toward the Victorian end of the spectrum.
There are many modestly sized bungalows in Cleveland Heights, like these two (above and below) that sit next to each other on a quiet tree-lined street.
The roof line of this large shingled home (below) caught my eye with its numerous types of dormers and complex upper roof line.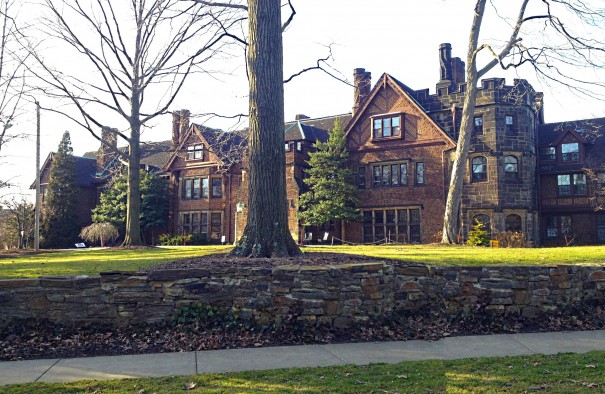 The building above is (I think) part of a larger complex of buildings that are now offices of some kind.
The several homes pictured below are fine examples of the English/Tudor Revival Style.  The use of stone or brick along with prominent exposed timber frames (called "half-timbering) and the occasional oriel window can be seen throughout.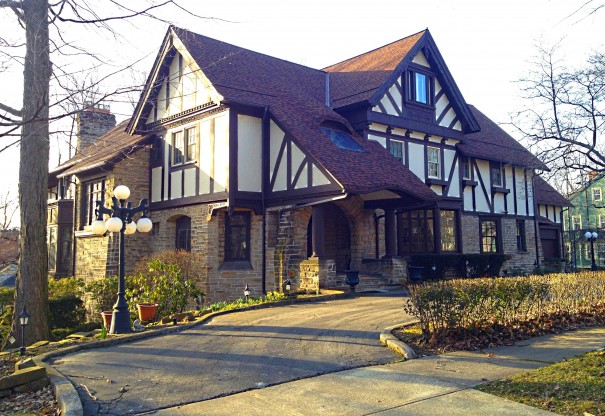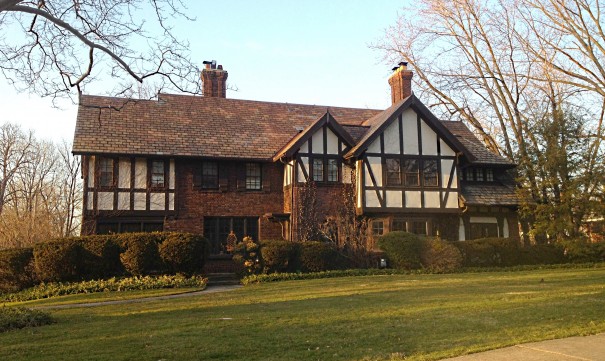 If you live in Cleveland and know more about any of these homes, I'd love to hear about it, so please leave a comment below…!

Comments
comments