From the late 1800's until the mid-1940's, Pabst Brewery in Milwaukee, Wisconsin was the largest brewer in America, and at times, the world.  Originally established in 1844 as the Best Brewery – named after its founder, Jacob Best – the name changed to Pabst in 1889 when Best's son-in-law, Frederick Pabst, became majority stockholder in the company.
Throughout its history, Pabst Brewery was known for its legendary brewery tours which, which as the story goes, were followed by an hour-long all-you-can-drink "tasting session". Those tours concluded in "Blue Ribbon Hall" (above and below) and the adjacent "Sternewirt" room (more on that in a moment).  Modeled after a 17th century German beer hall, Blue Ribbon Hall's solid oak wood paneling, hand-carved columns, and barrel-shaped coffered ceiling made of cypress seem transport you back to the Old Country.
The naming of the hall was decided by a contest, and brewery employees were encouraged to submit names for consideration.  The name "Blue Ribbon Hall" was submitted by employee Joseph Heinzelmann and personally selected by Frederick Pabst.
The custom woodwork, lantern chandeliers, and leaded glass windows all contribute to give the room a strong Arts & Crafts feel.  The bar (below), though small, is original and has served the hall well for decades.
Above the bar, a carving of the the original Pabst Breweries medallion is surrounded by hops on the vine.

A small octagonal room off the main hall (below) is ringed with built-in bench seating and paneled oak wainscoting.  Chicago artist Edgar Miller (shown below in the octagon room) painted the beautiful murals that are omnipresent throughout the hall.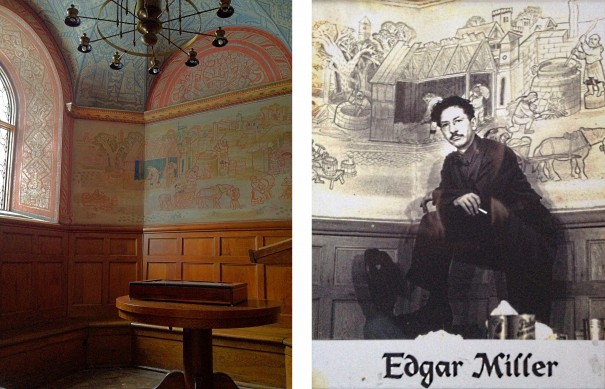 The murals depict historic milestones in the brewery's history and other Bacchanalia-themed imagery, including the harvest of natural grains used in the brewing process and other traditional farming scenes.
Wide gothic arched windows (below) look out on to one of two courtyards, and allow natural light to pour into the the otherwise softly lit hall.
Many of the dozens of original pub chairs in the hall are adorned with hand-carved logos of beers that were part of the Pabst family of beers.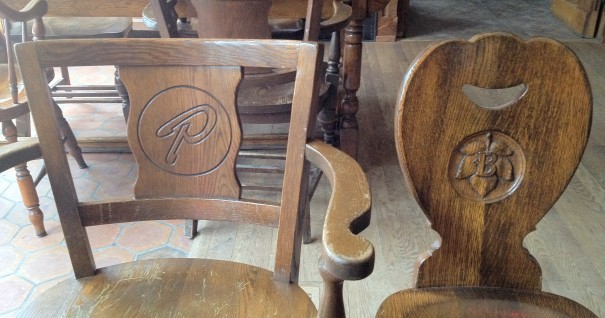 A statue of Frederick "Captain" Pabst stands in the courtyard.  Pabst was a Great Lakes steamship captain before he married into the brewery business.
The statue was sculpted by Gaetano Trentanove, an Italian-born artist and sculptor who studied in Florence and Rome before coming to America and opening his own studio in Milwaukee in the late 1800's.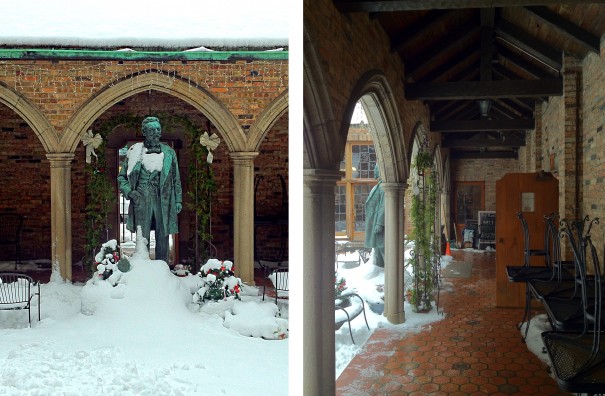 Behind the statue, a tiled portico (above) provides shelter from the elements.
To get to the aforementioned Sternewirt, you must first exit Blue Ribbon Hall (from the door at left above) and briefly go outside through the courtyard.  A door in the center of large bank of leaded and stained glass windows (above at right) leads you inside.
The name "Sternewirt "is derived from the German "der sternewirth" – also known as a bierstube.  I'll leave it beerhistory.com to explain its meaning:
"In keeping with true German gemutlickheit, the typical brewmaster of the 19th century welcomed visitors into his brewery with open arms. He was, after all, proud of his establishment, and loved nothing more than to give the grand tour. That being the case, virtually every American brewery of the 1800's was equipped with what came to be known as Der Sternewirth, a sort of hospitality center where the beer flowed freely."
Entering the Sternewirt via the courtyard, you're afforded a great opportunity to view some of the room's beautiful stained glass up close.  Homage is paid to one of America's earliest brewers, Benjamin Franklin (above top center stained glass), who was quoted as saying "Beer is proof that God loves us, and wants us to be happy".  Another image is that of William Shakespeare (upper right) who of course is universally known for the quote: "To beer or not to beer, that is the question."  Just kidding…
Several other stained glass images are of gnomes who all seem to be enjoying various degrees of drunkenness.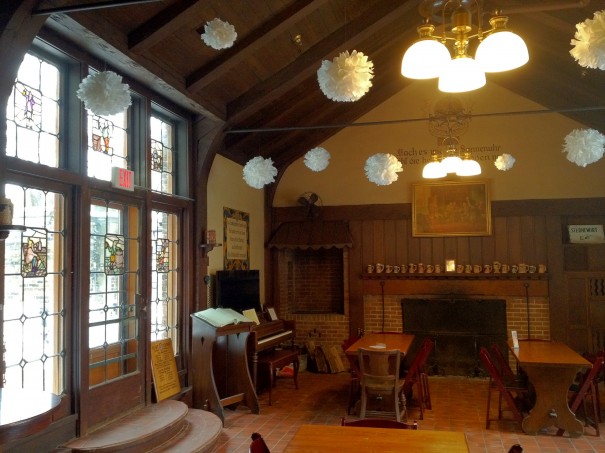 The room itself is not quite as big as Blue Ribbon Hall and has an almost ecclesiastical look that evokes the feeling of being in a small chapel.  It features a brick fireplace and a piano on one side and a bar on the other.  Large chandeliers hang from a vaulted ceiling and cast light onto a handful of pub tables.  All around the room are various beer-themed images inscribed with traditional German proverbs.  I've translated a few below…
Above the image of monks being served beers by a maiden (above left) is written in German:  "Eat what is well cooked, drink what is clear, speak what is true, and love what is rare."  Another proverb high on the wall above the fireplace (above middle) is the optimist's creed:  "Do as the sun-dial, count only the bright cheerful hours."  And finally, arguably the best (or worst) proverb in the Sternewirt (depending on your gender) reads:  "Sin with a group of your good fellows, and continue your good time, your wife will scold you just as much at 10, as she will at 2."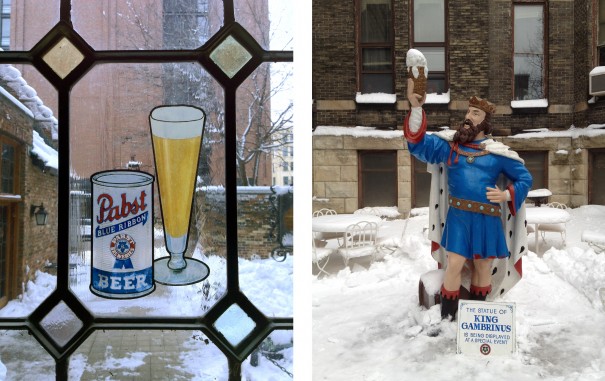 On either side of the room, a wall of windows with a door leads out to different courtyards.  One leads out to the courtyard from which you entered, and the other opens into a smaller one named for King Gambrinus, "the patron saint of beer",  who greets you while hoisting a tall glass of Pabst.
If you exit through the second courtyard, you will find yourself on Juneau Avenue where the massive Pabst Brewery once occupied the surrounding seven city blocks. However, today it's merely a shell of its former self.  Pabst thrived for over 130 years, but by the time the 1980's came around, competition was stiff among American beers.  Light beers from Miller and Budweiser arrived on the scene and sales of Pabst subsequently dwindled.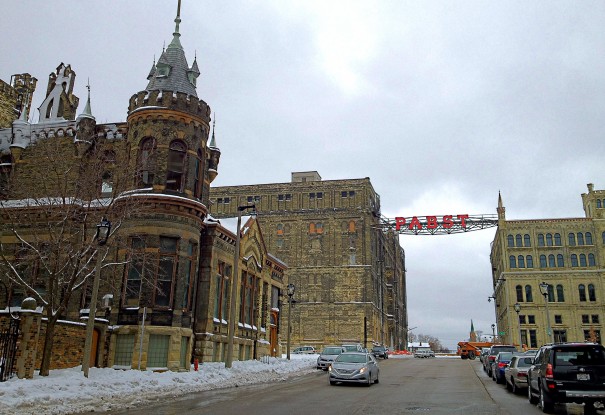 In 1985, the company was sold to an independent investor, and following his death in 1987, Pabst fell on hard times.  By 1996, the brewery as a business reached a tipping point and had become insolvent.  Sadly, the iconic brewery that had been in continuous operation for 152 years was forced to cease operation, and production was moved to Stroh Brewing Company's nearby La Crosse, Wisconsin plant (which was actually owned by Pabst).  In the years that soon followed, Pabst moved its corporate headquarters to San Antonio, Texas and an agreement was reached whereby Miller Brewing Company would now contract-brew Pabst Blue Ribbon and all 18 other beer brands owned by Pabst.
This was the final nail in the coffin for Pabst in Milwaukee.  As of August 30, 1996, all tours at Pabst Brewery were permanently cancelled, and the brewery itself was closed for good in December of that year.  The once mighty giant (below) now laid dormant and an integral part of American beer brewing history was gone forever…or was it?
The saga of the re-birth of the Pabst complex is a complicated and still evolving one.  Following 1996, the brewery was abandoned and essentially left for dead.  Enter Jim Haertel (seen below doing his best King Gambrinus imitation in front of Captain Pabst's orignal 130 year old roll-top desk).  In 2001, Haertel – who had a background in real estate development and a passion for beer – began a long and arduous battle to acquire the former Pabst Headquarters and save these historic buildings.
When Haertel approached the entity that now owned the property, he was told that he could not just purchase the small enclave of buildings that comprised the original Pabst headquarters, but he would have to purchase all of the buildings on the entire site at a price of $11 million dollars.  It was an all-or-nothing deal.  After raiding his personal 401k retirement account, Haertel was able to come up with the negotiated down payment of $50,000 and was given one year to find additional investors to pay off the balance.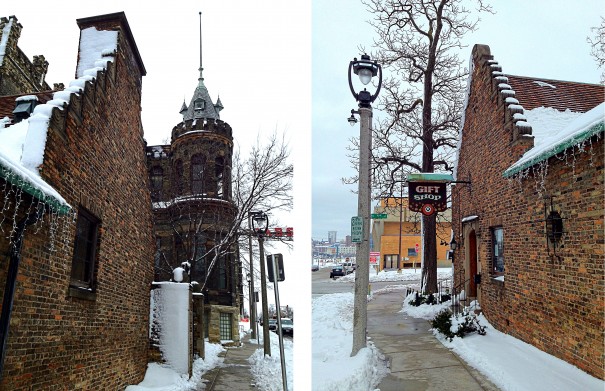 Fortunately for Jim and beer fans everywhere, he was able to find investors who agreed to fund the remaining $10.95 million dollars needed to close the deal.  Through a savvy bit of deal-making (and after his investors saw the revenue potential in redeveloping the site), Haertel relinquished any claim on the brewery buildings at large, and acquired the original Pabst headquarters buildings for only his initial down payment of $50,000!  For further reading, check out the full story here.
Haertel now owns and operates Best Place at the Historic Pabst Brewery which is comprised of an impressively well-stocked gift shop that initally sold all of the original beer memorabilia that was left behind in the buildings he acquired, and now also sells a plethora of great Pabst clothing and other beer-related accessories.  He was also the driving force behind the restoration of Blue Ribbon Hall and the Sternewirt, and has opened them up as a tavern that's available for hosting private events as well.  Jim's also your tour guide on the hour-long tour that takes you throughout the original Pabst Headquarters.  The beers after (or during) the tour aren't free anymore, but if you're up on your beer trivia, you just might score yourself a free beer (like I did!).
Buildings on the property (above) that have already been redeveloped include a loft apartment building and several other buildings that are in the process of being restored to a LEED-certified, Platinum sustainability rating.  But before all of this restoration and reinvestment started, most of these buildings sat abandoned for a dozen years.  To see an amazing video of just how dilapidated these buildings were and how big of a task it will be to restore them, check out the incredible video below taken by photographer Paul Bialas.
One of the most prominent buildings that's part of this project is the former Brew & Mill House, which is where the video footage above was shot.  It's currently being renovated into a 90-room boutique hotel that will open later this year called the Brewhouse Inn & Suites.
The Pabst Brewery Complex has seen a lot of things change in its 169 year history (and counting), but there's one thing hasn't changed a bit: people love beer.  That fact is clearly evident in the incredible amount of craft breweries that have popped up across the country in recent years. And while I certainly can enjoy a good IPA, stout, or porter any day of the week, sometimes you just gotta go for a good old American macro-brew, and for my money, you just can't beat a cold Pabst Blue Ribbon.
CHEERS!!
Comments
comments