If you've ever sought the perfect antique or architectural element for your home or business, then you probably know just how exhausting a search like that can be.  On a recent trip to Western Pennsylvania, I stumbled upon one such place where all those hard-to-find items can be found – neatly organized, and all under one roof.
Architectural Emporium, owned by Jeff Venturella and his wife Lorraine, has been in operation – in one form or another – since the mid 1990′s.  Originally the couple ran a small traditional antique store, while Jeff worked as a computer programmer for various large corporations.  Not long after that, the couple bought an old home and found some treasures in the attic.
"My wife and I bought an old 1890′s Queen Anne Victorian that needed a lot of restoration," Jeff recalls. "We started restoring the architectural elements on our own home, which lead to us having an interest in offering similar items in our store.  We found some old original gas lights in the attic of our Queen Anne, and I started taking them apart – electrifying and restoring them – ever since then, among other things, we've been dealing in antique lighting."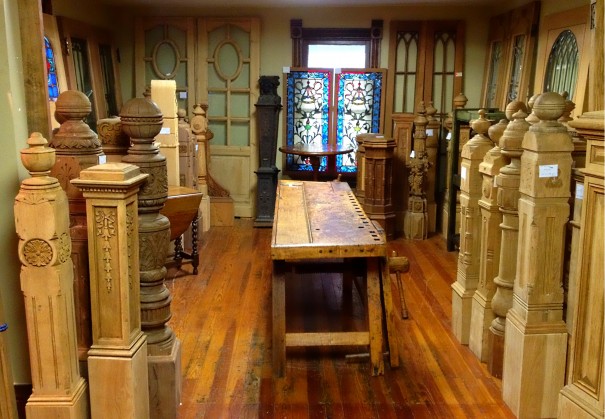 Antique lighting is just one of the many things they sell online and at their 6,000 square foot showroom in Canonsburg, PA, 20 miles south of Pittsburgh.  They have an impressive collection of restored architectural elements including newel posts, stained glass, fireplace mantels, bars, counters, and unique industrial antiques.  All the antique restoration is done by their team of artisans and craftspeople at their 10,000 square foot warehouse not far from the showroom.
"Our showroom used to be an old neighborhood general store built in the 1910′s with an 8-bedroom boarding house on the second floor," Jeff says. "We spent about two years restoring it, and during that time we discovered that during prohibition, they used to run a speakeasy out of the basement."  Jeff had found some unconventional plumbing that ran from the first floor bathroom down to the basement.  A local historian showed him where there was a 50 gallon barrel buried in the wall, and that plumbing Jeff discovered was part of the system they used to fill it with alcohol.
The great thing about antiques is that every piece has a story, and there are plenty of stories to be told with the inventory that Jeff and Lorraine have amassed. "Everything that ends up in our store I picked myself," Jeff explains.  "We travel across the US, up and down the East Coast, and we also have contacts in Europe.  A few times a year, I go to Belgium, France and England.  I have a good friend over there who's also an antique dealer, and we have an interesting arrangement.  I go over there and stay at his house; we go out buying antiques from various places and bring them back to his shop.  He packages them all up and ships them back to my warehouse in Pennsylvania.  Then next time, he'll come to the US and we'll do the exact same thing here, and I'll ship the things he's bought back to him in Europe."
Everything Jeff acquires can be found online on the Architectural Emporium website (www.coolsalvage.com), and you can also see it in person – either at his showroom located at 207 Adams Avenue, Canonsburg, PA, or at one of the dealers he works with in North Carolina.  You can find Jeff's antiques at the Antique Tobacco Barn and Oddfellows Antiques, both in Asheville.  Jeff also seeks out items for private collectors, you can contact him here.
"The Craftsman Spotlight" is an ongoing series where artists, craftspeople, and their businesses are featured.  This time, we're thrilled to spotlight Architectural Emporium!   If you're interested in featuring your business with The Craftsman Bungalow, please click here for more information.
Comments
comments