One of the fathers of the Arts & Crafts Movement in America, Elbert Hubbard, was once quoted as saying, "when life gives you lemons, make lemonade."  For Jacquie Walton of JW Art Pottery in Portland, Oregon, her lemon was an untimely job layoff that provided an opportunity for her to make lemonade using a skill she didn't even know she had.
"I discovered ceramics after I was laid off from a high-tech job in Silicon Valley," Jacquie says. "I decided to focus on my art while I was job hunting and enrolled in a ceramics class on a whim. I was hooked from the moment I sat down at the potter's wheel."  As a lifelong artist who had been collecting art pottery for more than 20 years and had previously dabbled in painting, textiles and photography, this new form of creative expression married together two of her passions and immediately took hold.  And she's been creating unique, handmade Arts & Crafts inspired vases ever since.

Jacquie was first exposed to the Arts & Crafts aesthetic as a child while visiting her grandmother's home in England.  "I think I was drawn to the Arts & Crafts aesthetic and lifestyle because I've always been searching for authenticity – in my relationships, my work, where I live, and the objects I choose to fill my home," she says. "One of the greatest compliments I've ever received is when my aunt said my house in Portland reminded her of my grandparent's home in London."
Jacquie and her husband moved to Portland in 2012 after moving on from her job in the high-tech industry in Silicon Valley.  "We chose Portland because it has an abundance of beautiful old bungalows — some of which we could actually afford!" she recalls.  "We were lucky enough to buy a 1923 bungalow [pictured at right] that still has its original carriage house, and we converted the carriage house into the JW Art Pottery studio."
The 420 square foot studio, with its white-washed barn wood walls, original wavy glass windows and acid-stained concrete floor (all personally designed by Jacquie herself), is much more than just a creative space.  It's part pottery studio, part chemistry lab, and part art gallery, with a whirlwind of those activities taking place on any given day.
"As a studio potter, I produce a small number of unique vases each year. I throw each vase individually, by hand, on a potter's wheel," Jacquie says. "To make my Grueby and Van Briggle style vases, I model clay on the surface of the vase when the clay is leather hard. From concept to completion, a single vase can take up to a week to produce."
Not only does Jacquie create each vase by hand, but inspired by the work of turn-of-the-century ceramist Adelaide Alsop Robineau, she's also spent several years developing her own macro-crystalline glazes that are carefully applied to each vase and fired at exacting temperatures in her studio kilns.  It is this crystal growth that's unique to every vase she creates and it adds a distinct element of drama to each piece.
"Crystalline glazes are specialty glazes that show visible and distinct crystal growth in the matrix of the glaze," she explains.  "Most potters consider macro-crystalline glazes to be the most difficult glazes to work with – and I completely agree with them. I encountered so many problems with the crystalline glaze process that I almost gave up several times. But now that I'm finally getting the results I've been seeking, I'm proud of myself for staying with it."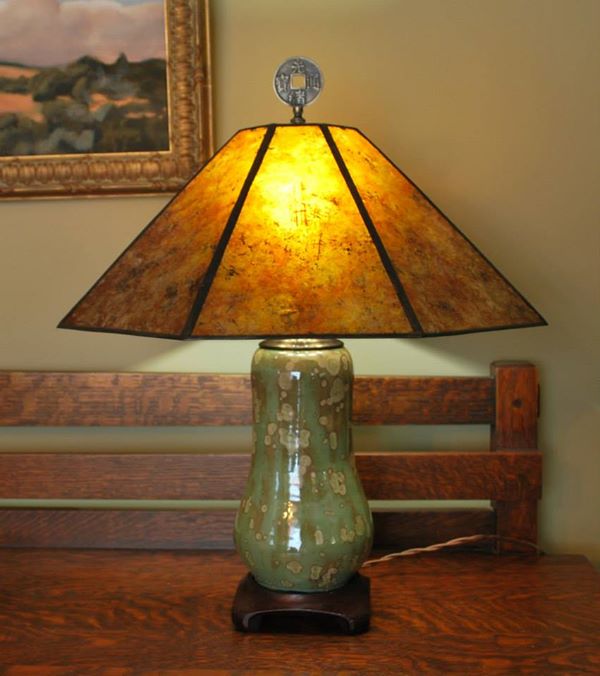 Over the years, Jacquie's most popular styles have been her Redlands-inspired frog bowls and Grueby-inspired leaf style vases, but more recently she's been exploring French Art Nouveau designs influenced by the work of Denbac and Pierrefonds.  She's also currently collaborating with NYM Arts, a New York based mica lamp shade company, to adapt her vases to be used as bases for table lamps.
JW Art Pottery has made its way into the homes of collectors across the country, and has been featured by the Contemporary Art Pottery Collectors Association, as well as the Oregon Potters Association Ceramic Showcase.  This year the studio has been selected to be featured on the  Portland Open Studios (PDXOS) Art Tour 2015.  The prestigious tour, which takes place on October 10th, 11th, 17th and 18th from 10am to 5pm each day, will showcase over 100 artist's studios across the Greater Portland area in an open house self-guided tour format.
Following the PDXOS Tour, JW Art Pottery will be available for purchase online at Etsy and commissions are always welcomed as well.  But if you happen to live in Portland, and would like the opportunity to meet the artist and view her work in person in the studio, don't miss the upcoming PDXOS Tour!
Portland Open Studios Art Tour 2015:
October 10th, 11th, 17th, & 18th
10am to 5pm Each Day
JW Art Pottery
5034 NE Rodney Avenue
Portland, Oregon
For information about the tour, please visit:
www.facebook.com/pdxopenstudio


For more information about JW Art Pottery, please visit:
www.etsy.com/shop/JWArtPottery

"The Craftsman Spotlight" is an ongoing series where artists, craftspeople, and their businesses are featured.  This time, we're thrilled to spotlight JW Art Pottery!   If you're interested in featuring your business with The Craftsman Bungalow, please click here for more information.

Comments
comments