After completing the restoration of our first home, we knew that at some point in the not-too-distant future, we would be starting a family.  With that in mind, we quickly came to the realization that while our home had served us very well for the previous 5 years, a growing family would need more room than our cute little bungalow could provide.  So in the summer of 2009, the search began for a bigger house…
One thing was for sure, we definitely wanted another project home that we could restore.  As most DIYers will attest, there's an indescribable feeling of satisfaction that comes from taking a tired old home that had been the victim of decades of tasteless remodels and poor paint choices, and pouring your heart and soul into it – resurrecting it back to its original glory.  We knew that feeling well and we yearned to experience it again.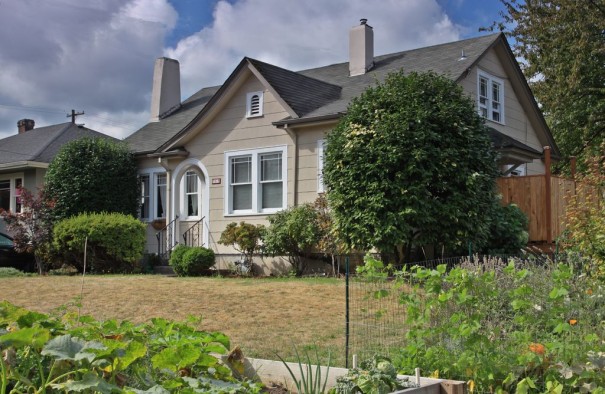 Our first bungalow in North Portland

But we didn't want just any old house, it had to have character – it had to speak to us. We had several neighborhoods in mind, and started scouring the online listings on a daily basis.  It was summer 2009 – the stock market had already bottomed out earlier in the year, and the housing market was in the midst of a deep decline. There were plenty of houses for sale, and we kept hearing about how it was a "buyer's market", but for one reason or another, we just couldn't find anything we liked.  Over the course of the next couple months, we probably looked at over 50 homes and we were starting to get exhausted.
What our home looked like when we bought it

We didn't want to settle for a house that we weren't absolutely in love with, and we knew that if we just kept looking, something would eventually come along and steal our hearts.  That day finally arrived when I came across a post on Craigslist for a home in the Eastside Portland neighborhood of Laurelhurst (one of the neighborhoods on our list!) that was for-sale-by-owner.
The home's exterior (above) was rather unique – its' gently sloping rooflines were slightly offset giving it an attractively different appearance from almost any angle, and the large wrap-around porch was a feature we'd always coveted.  On the other hand, the baby-blue paint job was just awful, but that was an easy fix…
The "vintage" interior that would make your Grandma proud…

There weren't any pictures of the home's interior in the online listing, but judging from the exterior pictures, I had a pretty good idea what it might look like…and I was totally right.  Wood-paneling?  Check!  Frilly window treatments?  Check!  Terrible wallpaper?  Check!  I think you get the idea.  But even with all of its' stylistic shortcomings, the good news was that most of them were simply cosmetic and easily correctable.
The home had a great circular floor plan and flowed nicely.  When we went to see it, we pulled up a little bit of the wall-to-wall carpet in the corner of the living room and confirmed that there were oak hardwood floors(!) underneath, but beyond that corner, there was no way of knowing what condition the rest of the floors were in.  The kitchen and both bathrooms reeked of the 1960's, but we knew we'd be restoring them anyway.  Another bonus was that there was a partially finished basement that would make a perfect TV lounge and kids play area.  Checkmate!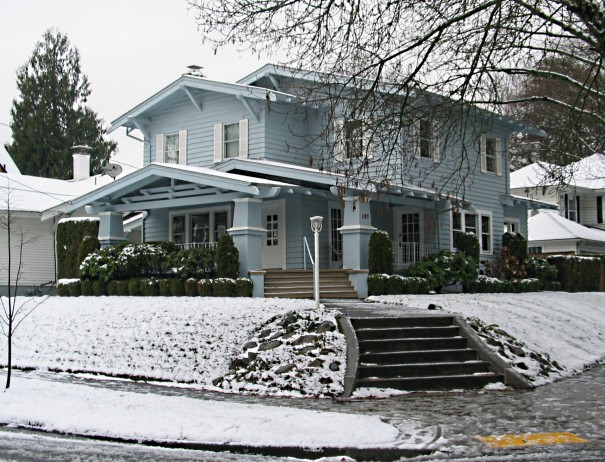 The bottom line was that this house was exactly what we were looking for.  We submitted a low-ball offer which was met with some resistance by the seller, but we ultimately negotiated a price that everyone was comfortable with, and on October 29, 2009 we officially became the new owners!
We didn't move in until after the New Year, so over the next couple months we were able to roll up our sleeves and get to work.  The first thing we were anxious to do was to pull up those wall-to-wall carpets and see what condition the rest of the hardwood floors were in.
We were thrilled to discover that not only were the floors in good shape, but we didn't even have to re-finish them!  Being covered by carpet for 50 years had preserved them perfectly – just look at that shine! 
After the floors, I removed the dark brown window and door trim and replaced it with period-appropriate craftsman trim – the same style that could be found in the upstairs hallway.  In the summer of 2010 we had the roof replaced and painted the exterior of the house.  Below is a picture of how the house looks now:  I think you'll agree that it looks much better…
How our house looks today after being painted
In the dining room, we removed the existing hutch (below left) and cut the wall in half to expose the stairway behind it.  Using a salvaged hand rail and newel post, I built a new period-appropriate stair railing (below right) – it really gives the room an elegant, timeless feel.
So now, we've reached the point where we need start planning the big stuff.  The house used to have a garage, but at some point decades ago, it was removed because it was falling down.  We're going to be building a new garage, but we'd also like to add on a new master suite above the garage, as well as add a second bathroom, expand one of the other bedrooms and remodel the kitchen and both existing bathrooms.  Clearly, we've got our hands full.
We've met with some builders and are establishing what our budget is, but our main goal is to make sure the addition is properly designed so that it fits in seamlessly with the rest of the house.  In order to get inspiration, we recently traveled down to Pasadena, California to take part in a rare opportunity to tour six magnificent craftsman homes designed in the early 1900's by legendary architects, Greene & Greene.
The Gamble House in Pasadena, California – Designed by Greene & Greene in 1908
Brothers Charles and Henry Greene were renowned architects in Southern California and pioneers of the American Arts & Crafts Movement around the turn of the last century.  They were heavily influenced by Asian design which is evident in the gently sloping rooflines, exposed woodwork, and large over-hanging eaves which helped shade their homes from the warm California sun. 
Although our home wasn't designed by Greene & Greene, you can see a lot of similarities.  Touring these six homes provided us with a unique and rare opportunity to see these amazing (and privately-owned) homes up-close-and-personal.  The tour was very inspirational and we are moving forward with lots of ideas for the design of our new addition.  Stay tuned to hear about the tour and see some of the amazing homes that we had the good fortune of touring.
Comments
comments