Whenever I'm out-and-about and see a sign saying there's an estate sale going on nearby, I almost always do a drive-by to check out the house and take a peek inside.  A few weeks ago, that same scenario played out, and when I pulled up to the house where the sale was (below), my jaw hit the floor…
The grand 1910 Swiss Chalet style craftsman home in Portland's Mt. Tabor neighborhood had been listed for sale in late 2014 and sold almost immediately.  And I can see why!  I found the exterior detailing on this home to be very pleasing to the eye – from the alternating widths of the bands of its cedar shingle siding, to its Swiss-style roof brackets and scalloped rafter tails.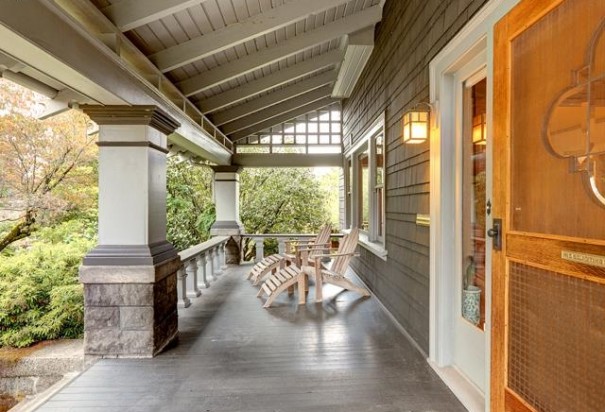 Stepping on to the home's welcoming front porch, I could tell that I was in for a real treat.
When I walked through it, the furnishings were scarce since the previous owners had pretty much already moved out by then and were holding an estate sale to sell off the things they didn't take with them.  The images in this article are from the original real estate listing from when the house was still for sale.
The generously sized living room (above), with what appears to be the original tiled fireplace, is separated from the handsome wood paneled dining room by a pair of huge pocket doors.  A massive built-in hutch and box-beam ceiling unify the room.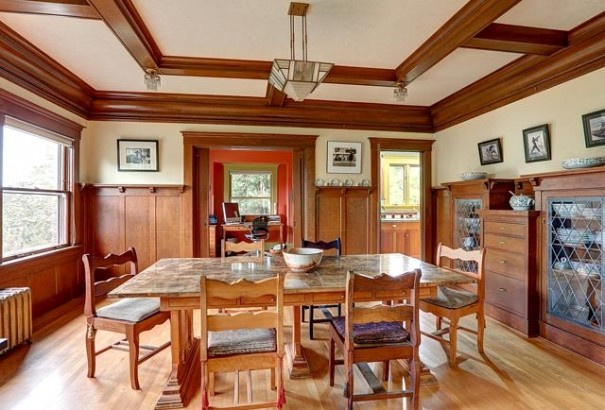 Upstairs there are five bedrooms, including the master bedroom (below) with its own fireplace.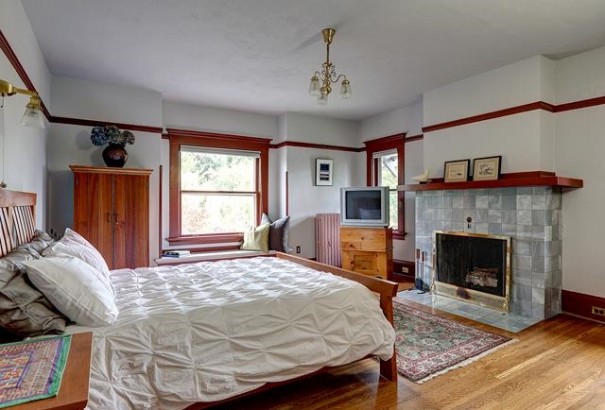 An upstairs bathrooms (below) features a claw foot tub, which may or may not be original to the house.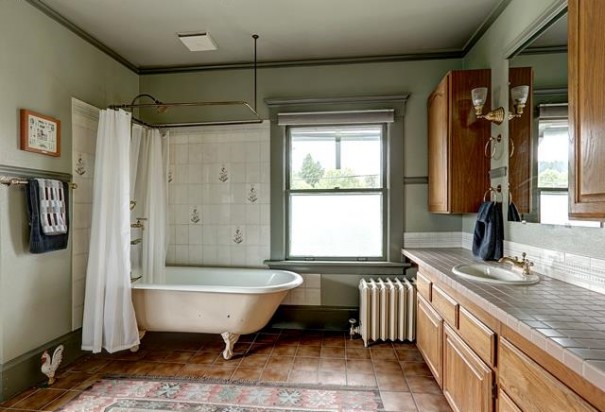 One of the bedrooms, which has been converted into a library (above), also has a connecting room (below) with windows on three sides.  It appears that the windows may have been added on at some point, and the room could have originally been a sleeping porch, but is currently used as a sun room.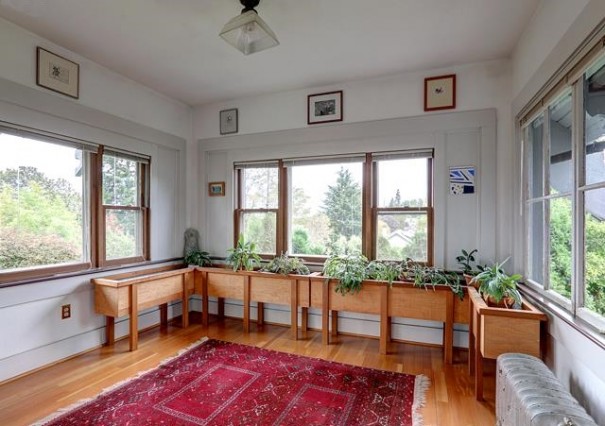 Immediately adjacent to the sun room, is a porch (below) with just enough room for a café table and chairs.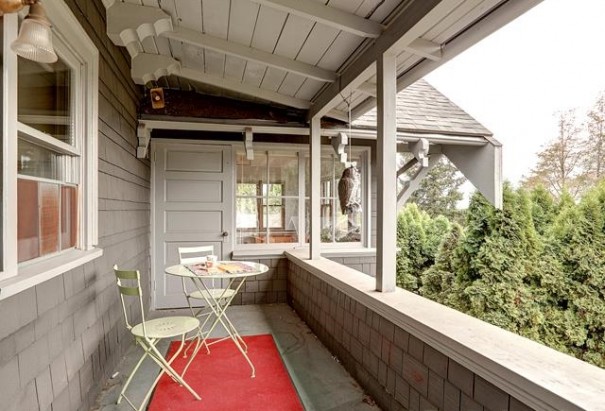 The third floor of the home contains another bedroom and a tremendous amount of built-in cabinets, as well as additional attic storage.
The home sits on nearly 1/3 of an acre (13,696 sq ft), which makes it almost triple the size of a typical Portland city lot (which is 5,000 sq ft).  I'm sure the new owners will have a few ideas on how to they'd like to make this home their own, but after seeing it firsthand, there's not a whole lot that needs to be done.  Hopefully they feel the same way!

This post is part of our "Peek Inside" series where we showcase Arts & Crafts homes from across the country that are currently for sale, or were recently sold.  Some of them may be fixers that are just begging to be restored, others may be fully restored and move-in ready (like this one), and still others may be somewhere in between.  If you have a home that you'd like us to feature, please contact me for details!


Comments
comments