UPDATE:  You voted and the results are in!  It was neck-and-neck right up until the end, but "Frank Lloyd Wright's Oak Park, Illinois Designs: 1889-1913" edged out the rest as YOUR favorite article of 2014.  Thank you to everyone who voted, and Happy New Year!

As I've done in years past, I thought it would be fun to countdown our Top 5 most popular articles from 2014.  Last year, instead of determining the most popular article by simply looking at the total number of hits that each article got, I added a new wrinkle to help even the playing field:  I left it up to YOU the reader to decide which article was your favorite.  That system worked great, so I'm going to use it again this year!
If there are any articles that you haven't read, scroll down to read a preview of each, and then follow the link to read each article in its entirety…
Please vote for your favorite in the poll above and I'll announce the final results on New Year's Day, January 1, 2015.  Once you've entered your vote, you will see the most up-to-date results of the poll, so you can follow the progress, but you can only vote once, so make it count!
2014 was another great year for The Craftsman Bungalow, and I was fortunate to have the opportunity to tour a number of very memorable homes and neighborhoods.  Below are the Top 5 Nominees for The Craftsman Bungalow's Most Popular Article 2014 (in no particular order).  Read them again – or for the first time – and then vote for your favorite in the poll above!
And the nominees are…
The Architectural Heritage Center's Portland Kitchen Revival Tour is one of my favorite days of the year, and this year's 16th annual edition was again full of beautiful homes, whose kitchen – and in most cases much more – have been impeccably restored to reflect the home's original period design.  This is my third year covering the tour, but if you're not familiar with it, take a quick look back at the 2012 and 2013 tours.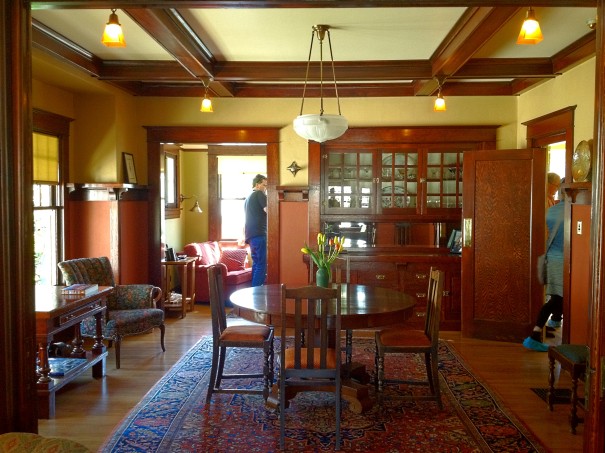 The AHC Kitchen Revival Tour continues to be my favorite house tour in Portland, and I'm already looking forward to next year's tour.  I always take away a tremendous amount of inspiration for my own future projects and get to compare notes with the great people who've also been through the ups and downs of a major remodel.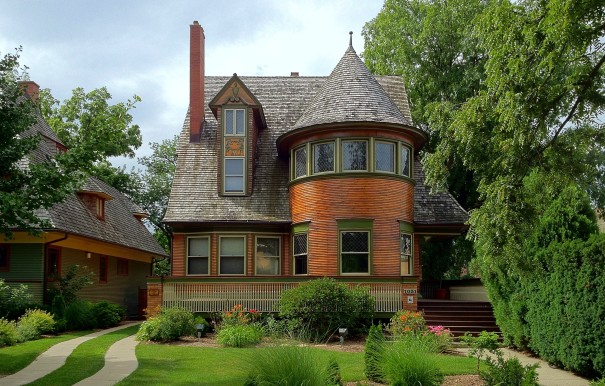 Frank Lloyd Wright lived and worked in Oak Park, Illinois from 1889 to 1909, and during that time, he designed hundreds of buildings and developed the ground-breaking Prairie Style for which he is universally known.  The homes he designed during this early prolific phase of his career span the creative spectrum of early 20th century architecture, and represent a microcosm of the designer's ever-evolving architectural aesthetic.
Many of those homes were built within a short walk from the very studio in which they were conceived.  In all, more than two dozen homes and buildings in Oak Park – and its neighbor to the west, River Forest – were designed entirely by Wright, making it the largest concentration of Wright-designed buildings in the world.  And that doesn't even include dozens more remodeling projects of existing homes that Wright worked on.
The William T. Bolton House in Pasadena, California is a prime example of Charles and Henry Greene's early emerging California Arts & Crafts aesthetic.  Taking its name from the prominent physician who commissioned it in 1906, the home predates Greene & Greene's larger commissions – including the Gamble and Blacker houses – and introduces several more of the motifs that the brothers would continue to explore in the years that followed.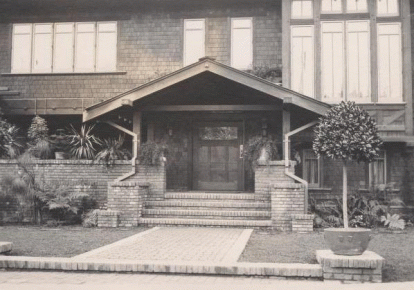 But this wasn't the first home that Bolton had commissioned the Greenes to design, in fact, it was the third.  The first was a late Shingle-Style home built in 1900 that featured a dominating gambrel roof, and the second was a straightforward 1902 board-and-batten bungalow that Edward Bosley, Director of The Gamble House, called "a refined dwelling that appealed to sophisticated if rustic tastes, precisely because it was simultaneously so convincing and deceptive in its simplicity."
With his three commissions of vastly different style homes between 1900 and 1906, Bolton, perhaps more than any one patron, indirectly helped to shape the Greene's evolving vernacular during their most formative years.  Sadly, he wasn't able to see the finished product of his third commission (below), as he passed away before the home was complete.
If you haven't had the opportunity to see an authentic Greene & Greene-designed home up close, then a visit to The Lodge at Torrey Pines might be the next best thing.  Taking its design cues from two of the Greenes' most iconic "ultimate bungalows," The Blacker House (1907) and The Gamble House (1908), both in Pasadena, the lodge is an impressive homage to the Arts & Crafts Movement, as well as the California Craftsman aesthetic for which the brothers Greene are universally known.
Located just north of the beach community of La Jolla, in San Diego County, the lodge overlooks a picturesque stretch of California coastline immediately adjacent to the legendary Torrey Pines Golf Course and just to the south of the nearby state park of the same name.
In 1904, "San Diego's First Citizen," George W. Marston (1850-1946) and his wife Anna, commissioned the prominent architecture firm of Hebbard & Gill to design and build a grand family home on land that Marston had recently purchased adjacent to the present-day site of Balboa Park.
Completed in 1905 and originally intended to be an English Tudor Style home with extensive half-timbering on the upper floors, the home's final design (below) bears a strong Arts & Crafts signature with features from other influences of the day, including Shingle Style, as well as a few subtle Prairie Style details.
Read More…
[Wrap up text]
Comments
comments