My latest two articles for American Bungalow magazine are in the current Summer 2014 issue!  The first article, entitled A Tale of Two Owners, chronicles the decade-long restoration by Steve and Deb Moskowitz of a grand 1909 craftsman home (below) in Portland's historic Irvington neighborhood, and the subsequent passing of the torch to the home's current owners, Christine and Michael Ferrante.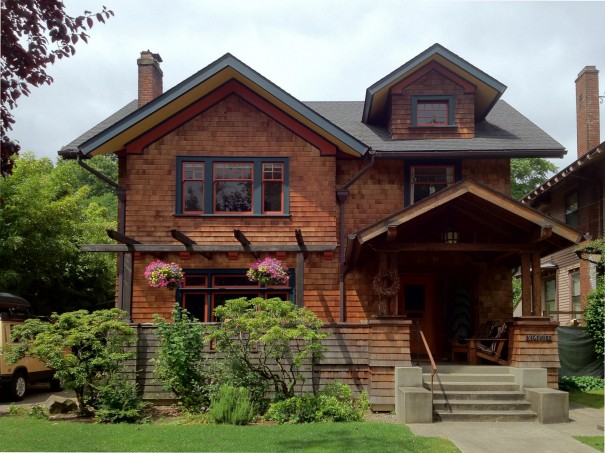 The common thread between the two families is a shared love of Oregon's wilderness, especially Mount Hood, the volcanic peak that lies just an hour east of Portland.  Steve and Deb were married on the mountain's 11,235 foot summit in 1991, while Christine and Michael were married a few years later on the mountain's iconic Timberline Lodge.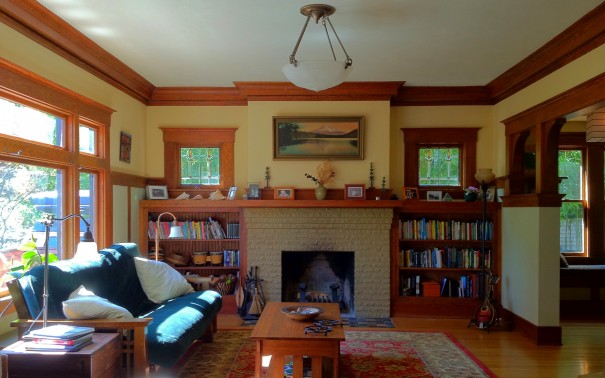 One of the truly unique stories I learned while interviewing Steve Moskowitz was the curious legend involving the home's original front porch and the horse of an inebriated relative:
"A small deck had been built in front of the door to replace the original front porch that, as the legend goes, had been destroyed decades ago when the presumably intoxicated uncle of a  previous owner rode up to the house on a horse and the porch succumbed under the horse's weight.  Trapped in the debris, the porch had to be dismantled in order to free the horse."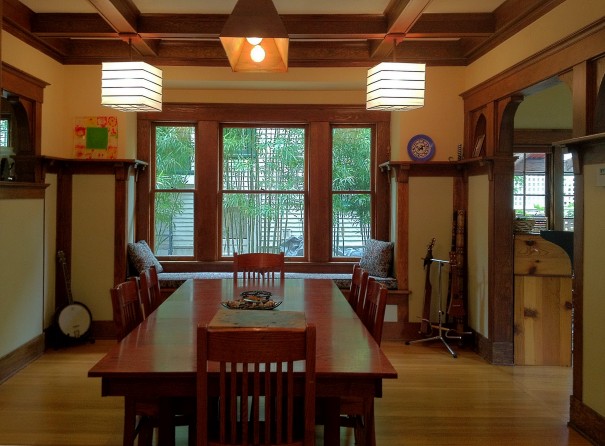 Decades of layers of paint had been applied to all of the first floor's trim details, and Steve and Deb worked for years to bring the home's original woodwork back to life:
"It was definitely a labor of love, and as a carpenter who really enjoyed working with old wood, it was an entirely different form of carpentry," Steve says.  "Deb and I were sculpting the debris away and exposing all of the beautiful woodwork that was hidden beneath it.  It was pretty exciting, but it took us a long time, and the house looked awful for a bunch of years. "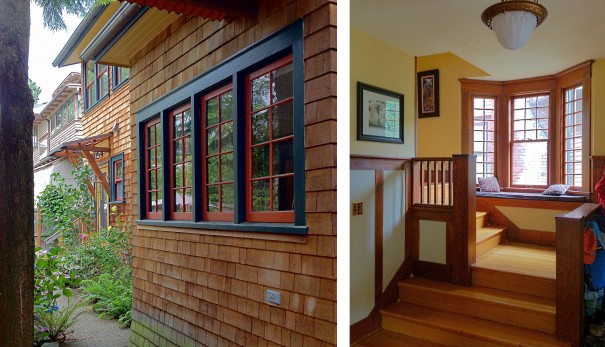 I also wrote the Arts & Crafts Profile for the Summer 2014 issue about Tim Celeski from Celeski Studios.  Tim designs and builds high end outdoor furniture (below) in the styles of some of the Arts & Crafts era's most iconic designers.  Among others, Stickley, Greene & Greene, and Limbert are all represented.  To learn more about Tim's exceptional work, check out his website, www.CeleskiStudios.com.
If you're not a subscriber to American Bungalow, it's never too late to start.  You can subscribe to the print edition of the magazine and/or the all-new digital edition -  click here for more information.  Or, you can always pick up the current issue on newsstands.
If you've read the article, I'd love to get your reaction to it, so please leave a comment below!

Comments
comments