The Architectural Heritage Center's Portland Kitchen Revival Tour is one of my favorite days of the year, and 16th annual edition was again full of beautiful homes, whose kitchen – and in most cases much more – have been impeccably restored to reflect the home's original period design.  This is my third year covering the tour, but if you're not familiar with it, take a quick look back at the 14th and 15th annual tours.
The first home I visited (above) was the home of Doug & Marie in the historic Northeast Portland neighborhood of Alameda.  Doug is a local historian who runs the outstanding website Alameda Old House History, so he brought a wealth of historic design knowledge to the project.  For a first hand look at this project, visit the extremely thorough Old House Kitchen blog that Doug & Marie put together documenting the renovation.
The living areas in this 1912 home had, for the most part, survived the past 100+ years without having lost much of their original fabric.  The cozy living room (above) and handsome dining room (below) are both replete with period appropriate furniture.  Original woodwork and trim details, along with a coffered ceiling, complete the authentic look.
A hallway past the far end of the dining room leads into this more casual eating nook (below), awash in warm wood wainscoting and lit by a low-hanging mica lamp.
Beyond the eating nook is the home's original kitchen (below, foreground) which has been converted into a prep area, and a previously enclosed porch has been transformed into the home's new working kitchen (below, background).

With windows at each corner of the kitchen (above) and a new bank of windows above the gourmet range and subway tile backsplash, abundant natural light pours into the room.  New cabinets, built to replicate those in the original kitchen and fitted reproduction hardware, are topped with custom maple hardwood countertops.
As I approached this next home (above), it seemed oddly familiar.  Then once I got inside, it hit me.  If you follow other Portland bungalow blogs, you may recognize this house as the home of Skye & Steve from the wonderful Rose City Bungalow 1913 blog!
They purchased the home in 2006 and have been lovingly restoring it ever since.  Starting with the exterior and then systematically restoring individual rooms inside, Skye and Steve have really done an amazing job of bringing the home back to its original 1913 roots.
I'm especially fond of their dining room (above), but the kitchen (below) has been the biggest transformation.  Custom cabinets, subway tile, and period appropriate lighting and hardware really make this kitchen shine!
Their current project involves the remodeling of their upstairs attic to provide some additional space for their growing family.  Be sure to keep up with all the latest action at RoseCityBungalow1913.blogspot.com!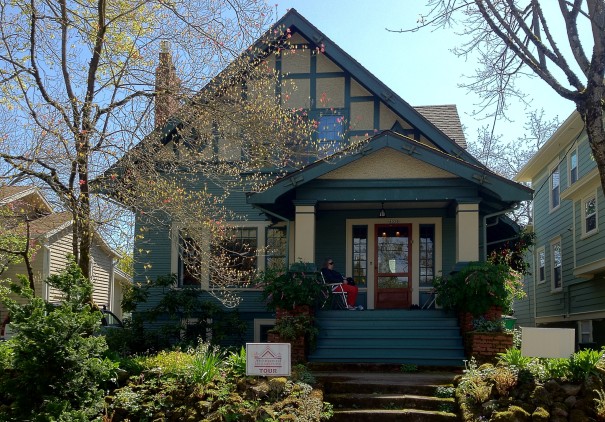 Another beautiful home on this year's tour was this 1910 Craftsman home in Southeast Portland's Sunnyside neighborhood (above).  The current owners wanted to bring the best of both worlds – modern amenities disguised in period styling – to their restored kitchen.
Taking their cues from other original details in the home's gorgeous entryway (above) and stunning dining room (below), the designers had plenty of inspiration to draw from.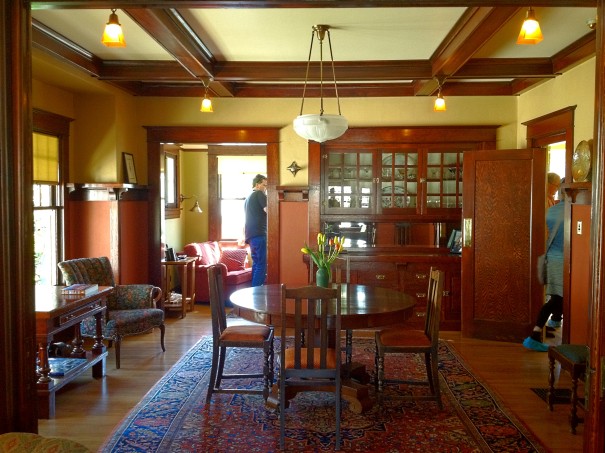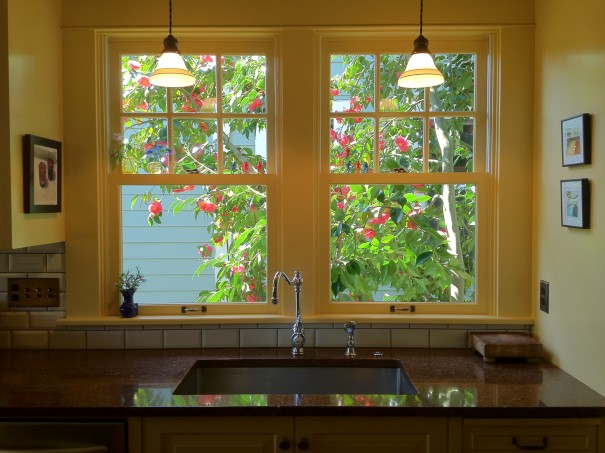 The result is a kitchen that blends a classic craftsman look with appliances and conveniences for the 21st century.  Storage issues were addressed with multiple built-ins and ingenious ways of utilizing otherwise wasted spaces – among them, a three foot deep drawer beneath bench-seating in the eating nook (below, right).
The AHC Kitchen Revival Tour continues to be my favorite house tour in Portland, and I'm already looking forward to next year's tour.  I always take away a tremendous amount of inspiration for my own future projects and get to compare notes with the great people who've also been through the ups and downs of a major remodel.  I hope you've enjoyed it as much as I have!
For more information about future tours and other events, please visit the Architectural Heritage Center.

Comments
comments