Most people don't typically associate pianos with the Arts & Crafts Movement, and for good reason.  Established piano makers of the late 1800s didn't really see the Movement coming, and by the time they did, it wasn't economical for them to go through the rigors and cost of designing and marketing this "new" style of piano.  Afterall, they were already making their more traditional styles that had always sold well.  As a result, relatively few manufacturers produced pianos in the Arts & Crafts style, and consequently, very few of those pianos are still around today.  But Michael Stinnett and the Antique Piano Shop are trying to change all that…
Located in Friendsville, Tennessee, the Antique Piano Shop is a team of passionate artisans and craftspeople, lead by founder Michael Stinnett, that have been restoring pianos and preserving memories for more than 25 years.
The journey for Michael (above, as a young man) began at the ripe old age of three years old when, as his parents recall, he climbed up to the family piano and began teaching himself to play.  He was later found to have been gifted with perfect pitch and quickly became known as a child prodigy, performing regularly at school, family, and community functions.
"By age 5, I was able to play anything I heard," Michael says. "I was put into college-level piano study at 12 years old, with the expectation of becoming a concert pianist, and I was tuning and repairing pianos before I was old enough to drive a car."
Michael would spend his teenage years working on pianos in around his hometown of Friendsville, Tennessee, and soon, his part-time hobby was showing the potential of becoming a full-fledged business.  "When I was 20 years old, I sent a videotape to Dollywood, asking if I could participate in their Harvest Crafts Festival," Michael says.  "Sure enough, they let me in, so we took half a dozen pianos that I had restored to the festival, and we ended up selling every piano we had there."
Here's a quick video where Michael explains how his restoration business got its start at the Harvest Crafts Festival at Dollywood in Tennessee…
This early success was exciting, but also bittersweet, as Michael's business aspirations ultimately overshadowed his desire to perform.  "I ended up forfeiting my degree as a piano performance major to go into the piano business."  That business became a fixture in the Craftsman's Valley at Dollywood for 10 years and allowed Michael to cultivate a customer base on a national level.
It was around this same time that Michael was first exposed to the Arts & Crafts aesthetic.  "In my early 20s – this would have been the early 1990s – I came across an Arts & Crafts style piano and had never seen one before," he recalls.  "I was so enamoured with it that I started researching the design and discovered the Arts & Crafts Movement, and I've been in love with it ever since."
"To me, the Arts & Crafts Movement is more than just an aesthetic," Michael continues, "it's a lifestyle.  Being able to learn about and adopt the principles of the Arts & Crafts lifestyle as a young adult has helped me develop a well-rounded and principled foundation as a person and as a business professional.  I try to live my daily life with efficiency, simplicity and peace, and incorporate these aspects into the world around me."
Michael's affinity for Arts & Crafts pianos and the experience and know-how of he and his staff of craftspeople has positioned the Antique Piano Shop as the leader in the market.  "With the Retail side of the business," he explains, "we probably sell more Mission/Arts & Crafts style pianos than any other single style. I probably have the largest collection of Mission/Arts & Crafts style pianos anywhere in the world, and they are nearly impossible to find!"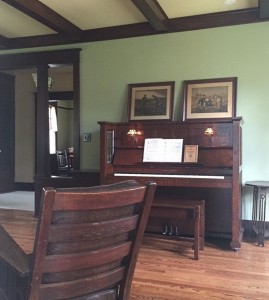 With all of the knowledge he's gained over the years, both as a prolific piano player and a highly-skilled technical artisan, Michael's approach to his work always comes back to his love and adoration of the piano itself, and the warmth and pleasure that the instrument can bring to any household.  "My first and foremost desire is to promote the restoration and preservation of antique pianos and related instruments," he says.  "Much of my life has been spent studying and collecting information, catalogs, and ephemera about 19th and early 20th Century piano makers. My two hands have been involved in hundreds of rare and historic piano & organ restoration projects over the years, and my goal is to take my experience and knowledge and share it with my clients so that these irreplaceable instruments will not be lost forever.
"With help from a handful of amazing craftsmen and artisans that have been instrumental in our success over the years, we are now restoring instruments on a smaller, more personal scale with an emphasis on customer satisfaction and individual attention," Michael continues.  "We're trying to recreate, as best we can, the days when we met every client face-to-face with a handshake – the days before the internet made nameless, faceless interactions commonplace."
If past accomplishments are any indication of future successes, Michael and his team are poised to continue their restoration and preservation efforts for years to come, with countless past and future customers benefiting from their exceptional work.  So if you have an antique piano that you're considering having restored, or if you never even knew your piano could be restored, The Antique Piano Shop can address any and all questions that you might have. Or if you're just interested in seeing their amazing collection for yourself, I would highly suggest that you check out their Online Showroom.
The Antique Piano Shop
Friendsville, Tennessee
info@antiquepianoshop.com
"The Craftsman Spotlight" is an ongoing series where artists, craftspeople, and their businesses are featured.  This time, we're thrilled to spotlight Antique Piano Shop!   If you're interested in featuring your business with The Craftsman Bungalow, please click here for more information.

Comments
comments