When Phillip Myer of Ragsdale Home Furnishings built his first table lamp way back in junior high school, he never imagined that one day, he'd be doing it for a living.  But in 1999, more than 25 years after building that first fateful lamp, Phil quit his job in the high-tech electronics industry and embarked on a career that's been getting brighter and brighter every year since.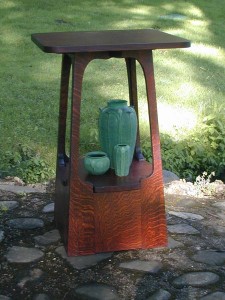 Through the 1980s and 1990s, Phil dabbled in woodworking in his small basement woodshop in the western suburbs of Chicago, crafting Frank Lloyd Wright-inspired pieces that he had seen firsthand in nearby Oak Park, Illinois.
"One day I went to an auction at the Treadway Toomey Gallery in Oak Park to see if I could get any real antique furniture, and I ended up seeing Limbert furniture there for the first time," Phil says, "and that's when I kind of got bitten by the Arts & Crafts bug.  I started making some lamps for my own living room, and some Limbert Style tables [at left], and my brother suggested that I should put them on eBay."
His first few offerings on eBay sold quickly, and with this early success under his belt, Phil set his sights on carving out his own niche in woodworking.  With a small nest egg that he had saved up, he quit his day job and moved back up to Michigan, where he was originally from, and started designing and crafting handmade lighting and other furniture full time.
"It started off slow that first year, and it was really hard," he recalls. "but I thought that if I could get double the orders the next year, I might actually have something.  And I did, and then the following year I doubled it again."
As Phil's customer base has grown, his designs have evolved as well, keeping pace with what customers want and trying out new things along the way.  "Some of the lamps I designed and put out there were total flops, and others just took off," Phil says.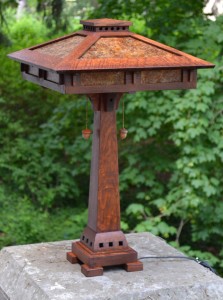 "The Holland Table Lamp was one of my first designs.  That shade is a variation on the traditional W.B. Brown style shade that was made back in the early 1900s.  After that, someone asked me for a reading lamp that was a little taller than the table lamp, and then someone asked for a floor lamp version that was even taller yet."
Next in the evolution came an 8-sided shade that he called The Saugatuck, that comes in all three sizes as well [table, reading and floor lamp].  "Then around 2006, I started doing The Prairie Craftsman lamps [at left] – and those really took off – that's been my most popular design so far."
In 2010, Phil was overjoyed that his work was accepted by the Roycroft Copper Shop at the Roycroft Campus in East Aurora, New York. "I am truly honored to have my work in the same campus where Elbert Hubbard, Karl Kip, and many others brought the Arts & Crafts Movement to the USA."
These days, like so many other master craftsmen that have come before him, Phil is passing on the knowledge of his craft to his two current apprentices, Marrissa Moore and Jordan Ward.  "I enjoy teaching and showing my apprentices that craftsmanship can be a lot less daunting than they imagine," Phil says, "and to witness their enthusiasm in creating a piece of art that they're proud of is simply magical!"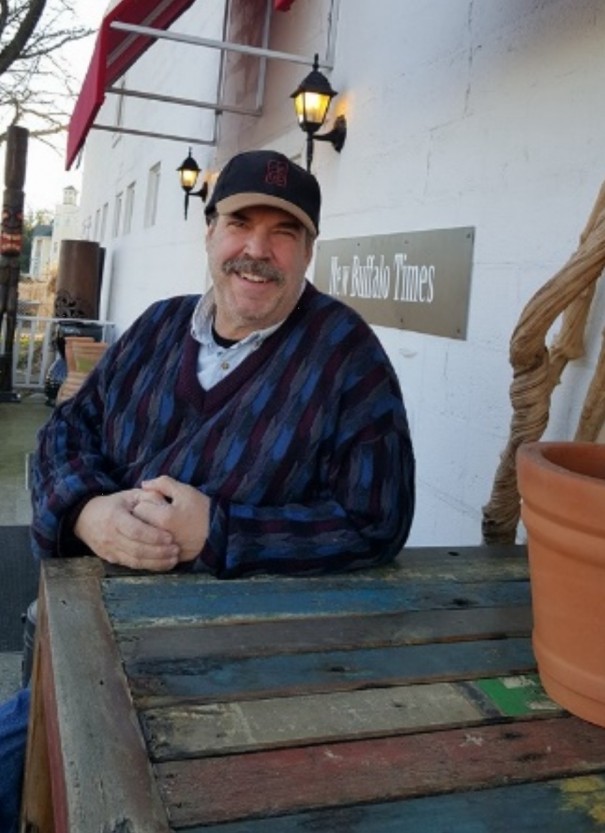 The next designs Phil's working on are a bit of a departure from what he's done in the past, but he looks forward to the challenge and enjoys the process.  "I always have a lamp or two in the design stage, and I live in the details of my woodworking," he says.  "I'm just starting to do some industrial style lamps, but I think I'm still going to do the bases in nice thick quarter-sawn oak. It'll end up being kind of be a fusion between steampunk and my current designs."
Phil's work can be found in countless private homes across the country, as well as many notable homes and museums, including: The Museum of Art in Los Angeles, The Sears Tower and Hancock Building in Chicago, The Gustav Stickley Home in Queens, NY, and The Gamble House in Pasadena, to name a few.
If you'd like to see more of Phil's work, please visit the Ragsdale Home Furnishings website.  And if you're looking to see his work up close and in person, you can find a list of the showrooms across the country that carry his work  here (scroll to the bottom of page).
And you can always contact the studio directly:
Ragagsdale Home Furnishings
Battle Creek, Michigan
(269) 275-8208
ragsdale335@gmail.com
"The Craftsman Spotlight" is an ongoing series where artists, craftspeople, and their businesses are featured.  This time, we're thrilled to spotlight Ragsdale Home Furnishings!   If you're interested in featuring your business with The Craftsman Bungalow, please click here for more information

Comments
comments