Having grown up in Pasadena, Tedd Colt's obsession with Arts & Crafts furniture and architecture was inevitable.  So it's no surprise that he pursued a path in the arts that led to him founding Caledonia Studios in Oakland, California, a small company dedicated to building the finest handmade Arts & Crafts furniture in America.
"I grew up in Pasadena and spent all of my formative years there," Tedd says, but he credits a friend of the family for introducing him to the fine art of furniture making.  "He was constantly showing me woodworking as a kid.  He took me out to meet Sam Maloof back in the 1970s, and that pretty much got me interested in making furniture."
Later, Tedd had the opportunity to experience things that very few others get the chance to.  "I had a friend who went to USC to study architecture, and he was one of the students who got to live in the Gamble House.  He and I used to play music together, so we'd have small musical gatherings in the basement.  We were able to explore the whole house – we were very reverent – but we got to see everything up close."
Tedd would also return to Pasadena during breaks while he was attending school at the California College of the Arts (CCA) in San Francisco.  "I worked for a few carpenters and general contractors and started restoring Arts & Crafts houses pretty early on – I think I was about 23 when I had my own business restoring homes, and I had the opportunity to work on some really amazing bungalows."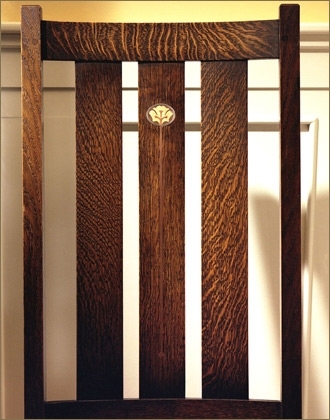 Almost immediately after graduating from CCA with a Bachelor of Fine Arts degree in furniture design and sculpture, Tedd took a small portfolio of furniture that he had made at school to stores in Berkeley with the intent of selling them.  "I had made a few pieces while I was in school, but back then all I had was Polaroids, so I walked around to a couple stores here in Berkeley," he explains.  "I showed them the pictures, and they were completely unimpressed.  But I had made this one style of dining chair that they both focused right in on, and in that one day, I walked out of those two stores with orders for 250 of those chairs – the Large Ellis Dining Chair."
Soon after that, Caledonia Studios was born.  "My grand parents are from Scotland and they got me into playing traditional music when I was young." Tedd recalls.  "Caledonia is the old Roman word for Scotland, and I spent a lot of time in my teens, twenties and thirties going to Ireland and Scotland playing fiddle."
Today, Tedd and his select team of craftsmen design and build furniture out of his studio in West Oakland, where they sustainably source the finest hardwoods and materials available.  "Right now I have three employees, and for years, I've always had at least one kid from the neighborhood that works as an apprentice and then becomes a full-time employee."
"Most of our oak comes from Indiana and Ohio," Tedd explains.  "There's a really great family-owned company called Pike Lumber, and they have a great reputation for being responsible in forestry, so we insist that any dealers that we buy from order from Pike."
"We get our leather from a place in Napa, California that sources everything from South America or Germany – places where they don't use barbed wire fences.  The hides we use are just conditioned and dyed, so they're really soft and supple, and very natural looking."
The hand-hammered hardware used for hinges and drawer pulls comes from a unique place as well.  "Our hardware comes from Gerry Rucks in Michigan.  He has the original machine that Gustav Stickley used at his factory to make his pyramid-head screws, so he does some really great work."
Tedd's work has adorned countless bungalows across the country, as well as being featured in museums and other public places too.  "In 2010, the Oakland Museum of California featured our work as part of their collection based on California Arts &Crafts furniture."
But perhaps the work he's most proud of is the altar he designed that was selected by the Swedenborgian Church in San Francisco, one of the earliest and most pure examples of Arts & Crafts architecture in California.  "The Swedenborgian was the sweetest thing we'd ever done," Tedd says.  "I had fallen in love with the place when I played music there for a wedding years ago.  I walked in and my jaw just dropped.  They'd never really had an altar there, and they put a call out to design one, so every woodworker and designer in the Bay Area submitted a drawing and proposal, and my design was selected.  I was so humbled to be a part of it, it's just such an amazing place."
Care, craftsmanship, and an attention to detail.  A philosophy that has served Tedd Colt and Caledonia Studios well since 1997.
For more information, please contact:
Caledonia Studios
510-839-5569
www.caledoniastudios.com
info@caledoniastudios.com
"The Craftsman Spotlight" is an ongoing series where artists, craftspeople, and their businesses are featured.  This time, we're thrilled to spotlight  Caledonia Studios!   If you're interested in featuring your business with The Craftsman Bungalow, please click here for more information.

Comments
comments